FIRST STEPS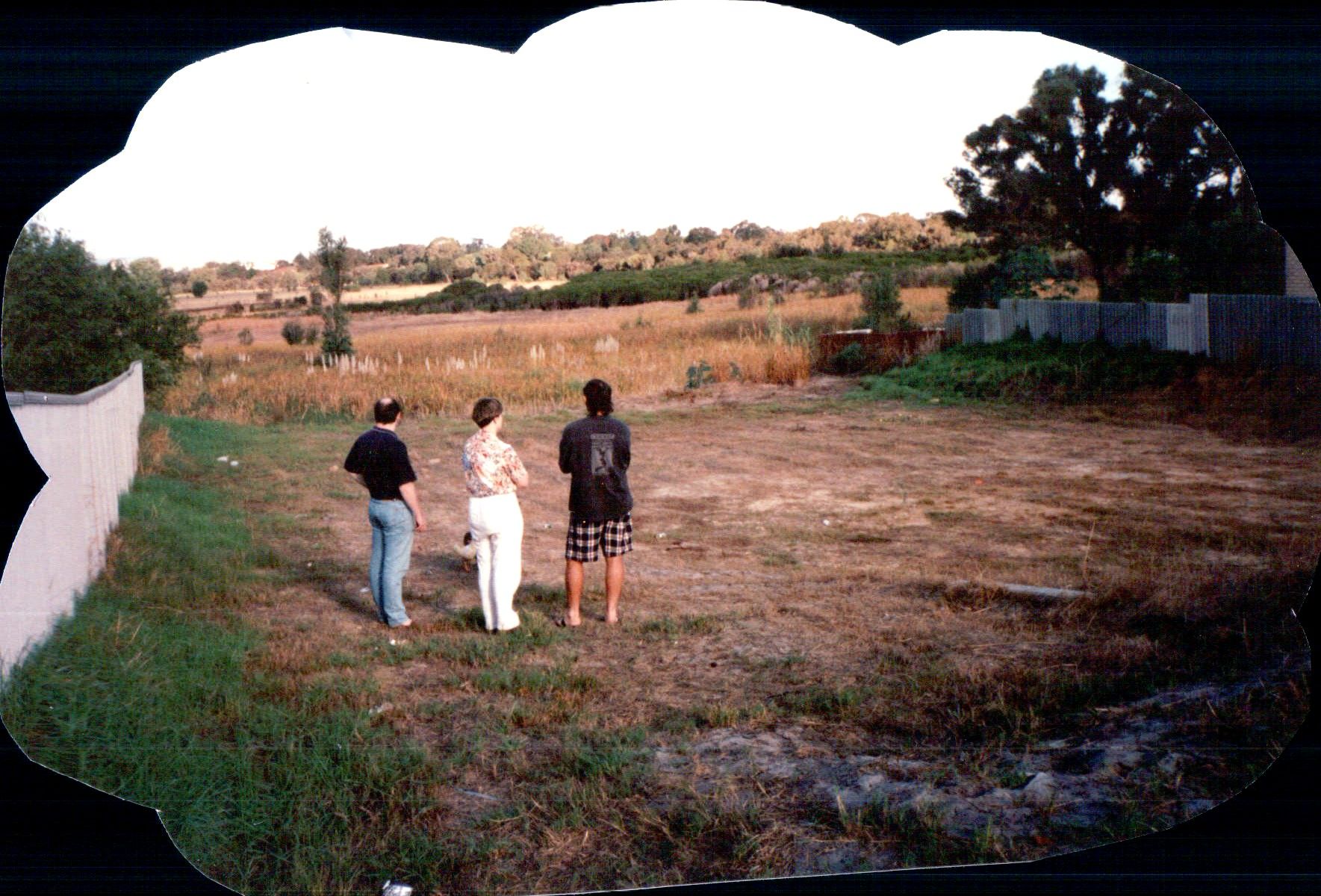 Scroll to the bottom of page first, and let the page load, (takes 4 or 5 seconds) then come to the top again
PROPERTY
The first thing, is to obviously find a suitable property which will accommodate "comfortably" the building of such a proposed premises.....preferably with some sort of unobstructed view (as you see in the photo above) .....and at the right price....surprisingly these are not particularly hard to find if you use a little imagination and be prepared to scout around, or scout about, a little out of town
(if you wish to study these information sheets below more closely, use zoom at the top right of your screen.....left click..the three vertical dots) I would suggest you use a desktop computor for easier visualisation
By the way.....below is not a comprehensive list of everything you need to do, but rather a guideline
Where you live,...... and the current world we live in today is significantly different to what it was 27 years ago......so just get a little guidance from the more professional people around you......particularly with current environmental issues, like built--in water storage for instance
SEALEVEL
1. check how much above sea-level it is (particularly if you are near the coast or waterway)....because land sepage can be a problem once you start to dig down......sometimes if you are to low, you may strike water because of creeping groundwater levels and forfeight your right to build on it, because of unstable terrain ..............you will find this sea level map (below) at your local council.....Eventually, Council Town Planning approved of us building at 5.2m AHD ( Australian Height Datum )...'5.2metres above sea level'
SEA LEVELS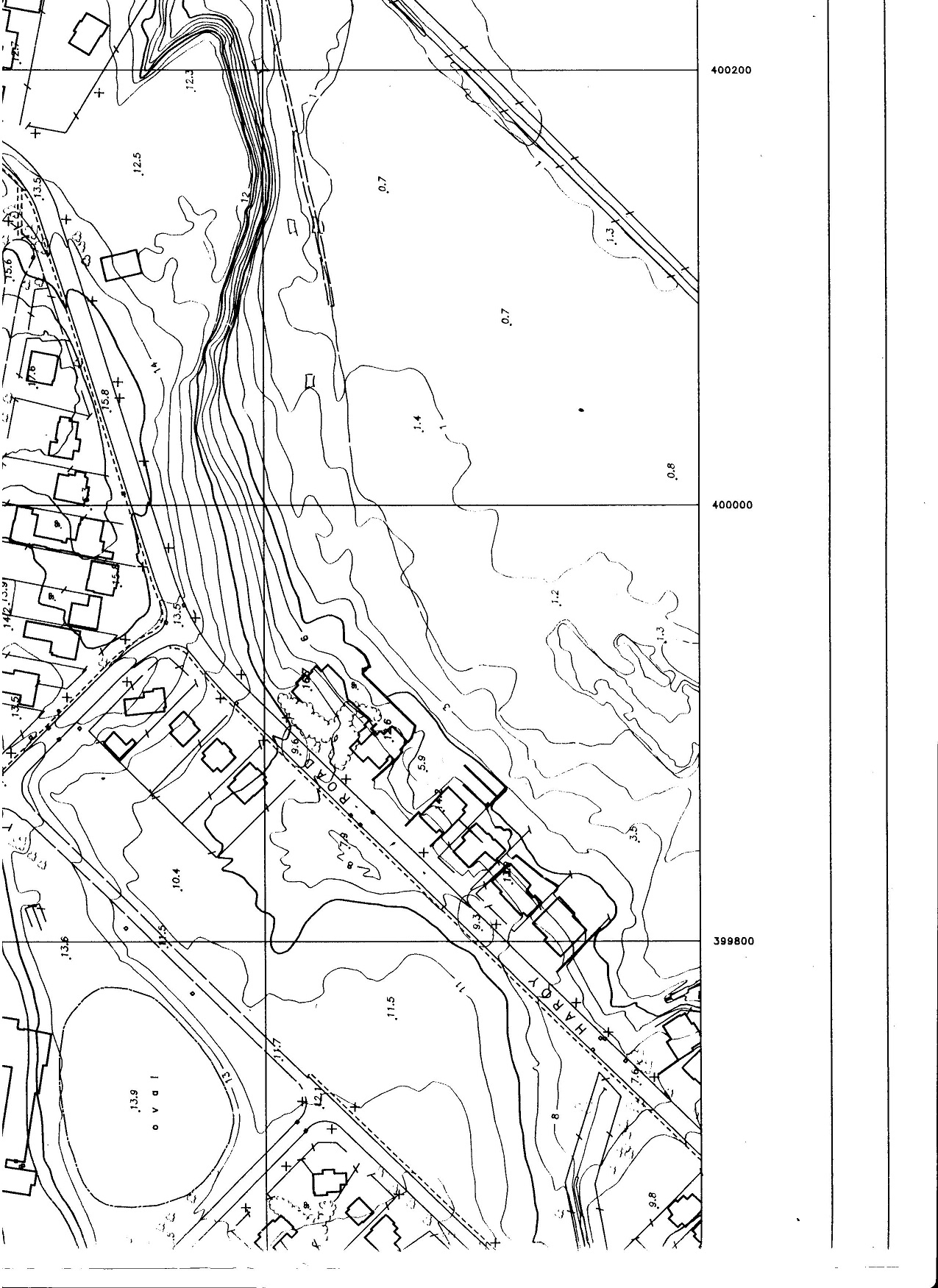 FLOOD LEVELS
2. Also find out from the council what the flood levels are....the land might be subject to regular floods.....
One of my friends bought a property, and later (when they were living there), found out, that annual flooding, (up to their door) was a regular occurance............unfortunately, they bought it in mid summer.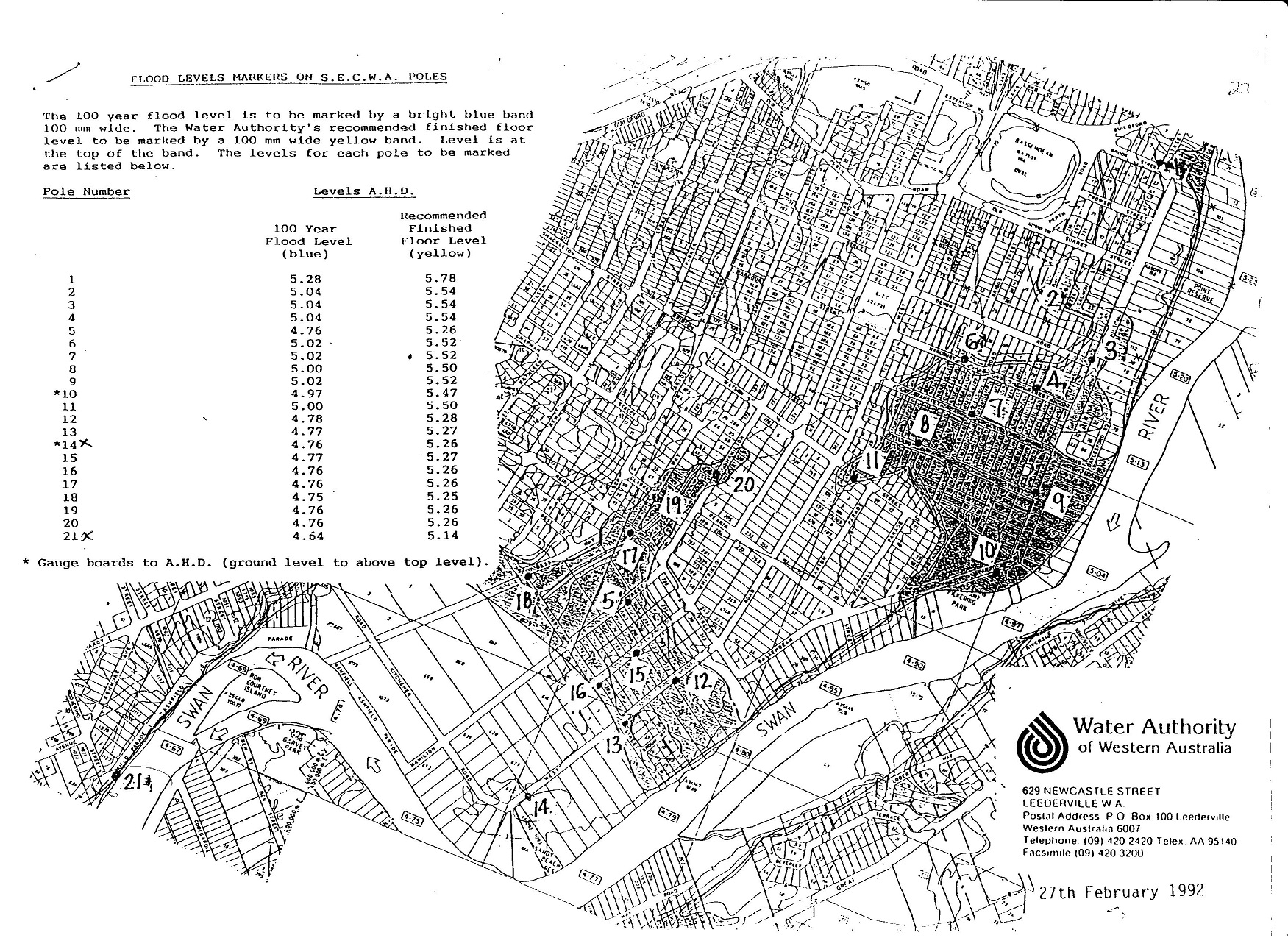 ONCE YOU ARE SATISFIED...CONSIDER PURCHASING THE PROPERTY
(but before you do,....make sure you read everything below first).....right to the bottom!!
CERT OF TITLE (below)
Our property shown here was aprox 45m x 22m wide
3.On purchasing the property (you probably will be required to also pay stamp duty as well ).... Keep the Cert. of Title handy when building, ( to save possible disputes with neighbours ), and read the small print prior to purchasing, which might say something like!......'The council has a right to enter the portion of land that has an easement runnning though it' ( of which you may have been unaware of ).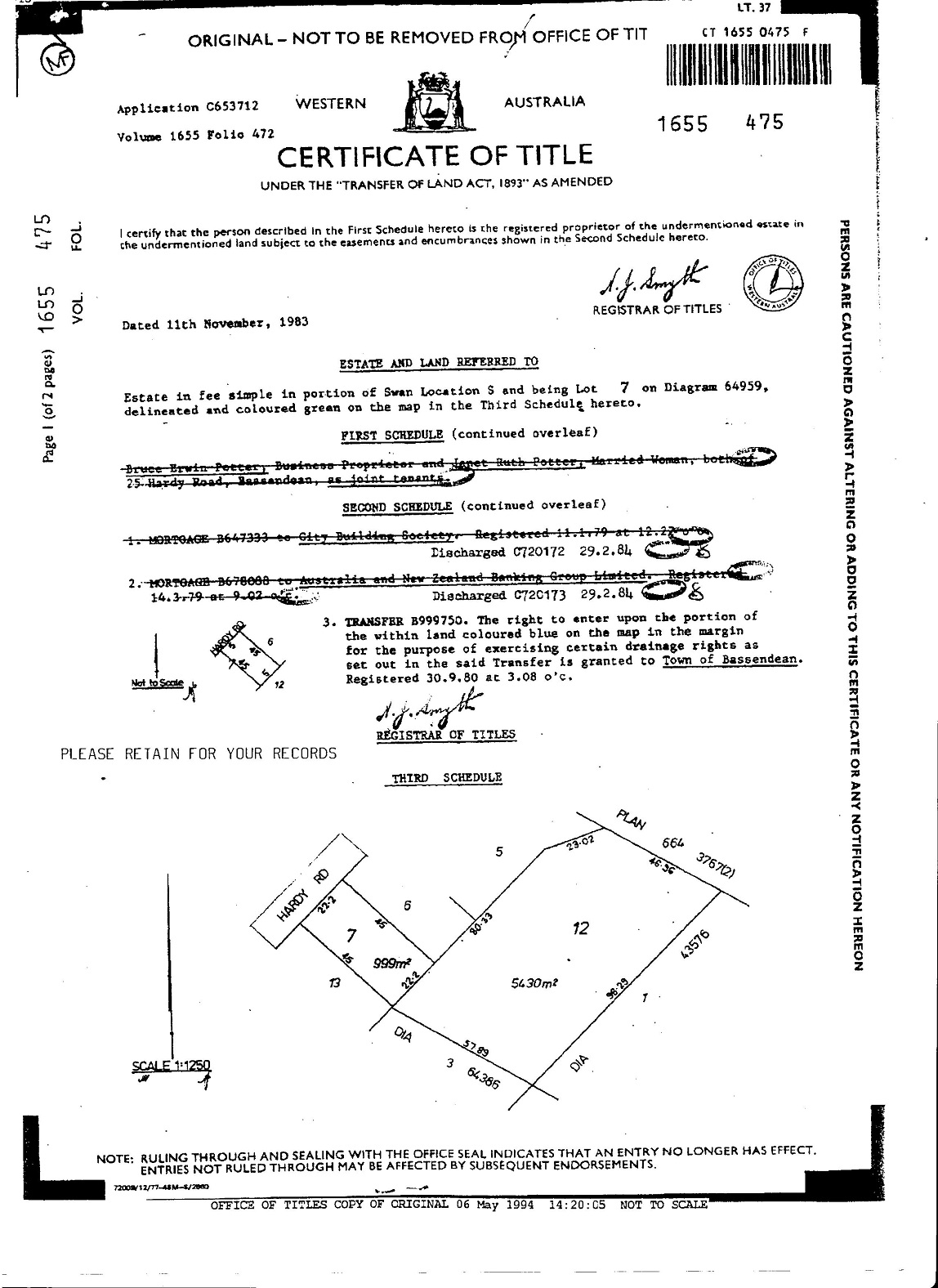 TWO YEARS ELAPSED AFTER THE  PURCHASE OF THE PROPERTY
Now, for the commencement of the project
FIRSTLY........PROPERTY VALUE (in the future)
Your property, may have to be a little out of town, but once the house is finished it will tend to raise the standard of the suburb and increase the local value.
Our house when completed raised the average value of the properties in the area by aprox $200-300,000.....much to the delight of our neighbours, but it also means that you may have a little fight with the council in order to upgrade the area....for instance....
Standard protocol was to conform with the other properties regarding street frontage.....i argued and finally was granted approval to create a beautiful curved brick paved driveway...significantly different from the square boxed uniformed concrete driveways that were the council requirement......i argued that we will all benefit if we improve the dollar value of the suburb....neighbours will benefit from greater property values and the council will benefit from higher property rates....talk their language $$$$$
CURVED BRICK PAVING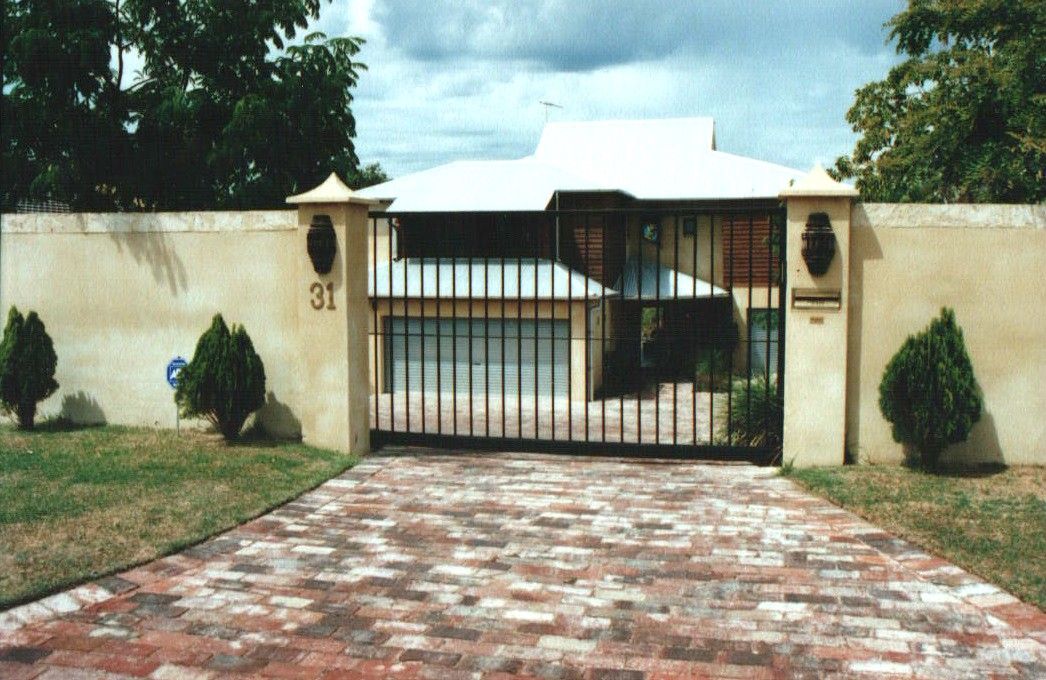 FINANCE FOR PROJECT
To obtain the finance to create such a project.....initially (as i was not particularly financial in any way....our family having lived a very adventurous and self-supporting lifestyle for many years) was hurried out the door at the local bank....with the suggestion that when i had a little more collateral i should come back...
So the next couple of weeks i buried my head in statistics and amassed myself a pile of information....with the advent of getting a loan that would complete the project....
I approached the bank again....and they responded by saying that i was to old at 48 yrs of age...(because i wanted the max loan term available which was 30 yrs...so to make payments as easy as possible)....they laughed as they said that i would not have the capacity to make repayments as i moved towards my 70s.....i laughed back and showed them the statistics that they themselves had been advocating publicly, that the average home owner changes their dwelling aprox. every 5 years and it was laughable to think that in this day and age, that i would still be there when im'e 78
I showed them the plans and said that everyone (including the bank will benefit from this project) as the area will be upgraded and prices will increase and bring the more wealthy into this region.....they gave me the loan... with my stipulation that the first payment will not be due for 3 months (breathing space)...my wifes income could cover the payments quite adequately as we received a 30 yr 'interest only' (substantially easier to service) loan......i would suggest an interest only loan.....easier to manage, and just let the future equity be your value, instead of pumping money into the mortgage and being unnecassarily stressed out all the time.....make money management as stress free as possible.....and negotiate your interest payment....they want your business (when i attempted to walk out ....there are plenty more banks) they lowered the interest rate
As it was, we did sell the house 6 yrs later (because all our kids moved to the other side of the country can you believe!!!)...and putting way more than quadruple the money we borrowed back into the bank was very empowering and i must say i had to restrain myself from giving them the 1 finger salute, even tho they did the right thing by us..Ha!!!
SOME OTHER THINGS TO POSSIBLY LOOK OUT FOR ( before you purchase the land )
Even tho this was a declared wetland adjoining our property, we were naive in only going to the property most often in the middle of the day before we bought it....not realising there would be a huge mosquito problem in the evening (which we fortunately managed to solve, and i will show you how, as we progress)..don't ask me to market it, because there's quite a bit involved in mosquito eradication.
My suggestion to you is visit the property at all times of day even late at night...because you might be surprised to hear all the hoons doing wheelies every night ....or the flight path you forgot to look for or the ambulance premises you didn't notice around the corner 
ZONING
Also check the zoning of your property from your council.......there may have to be some amendments made
Our property, even though it was zoned for Residential purposes, also had a 10m public recreation strip on the rear boundary, and a 5m public accessway on the eastern boundary.
Make sure any restrictions are removed by the Town Planning Dept....and that you have written approval (see below)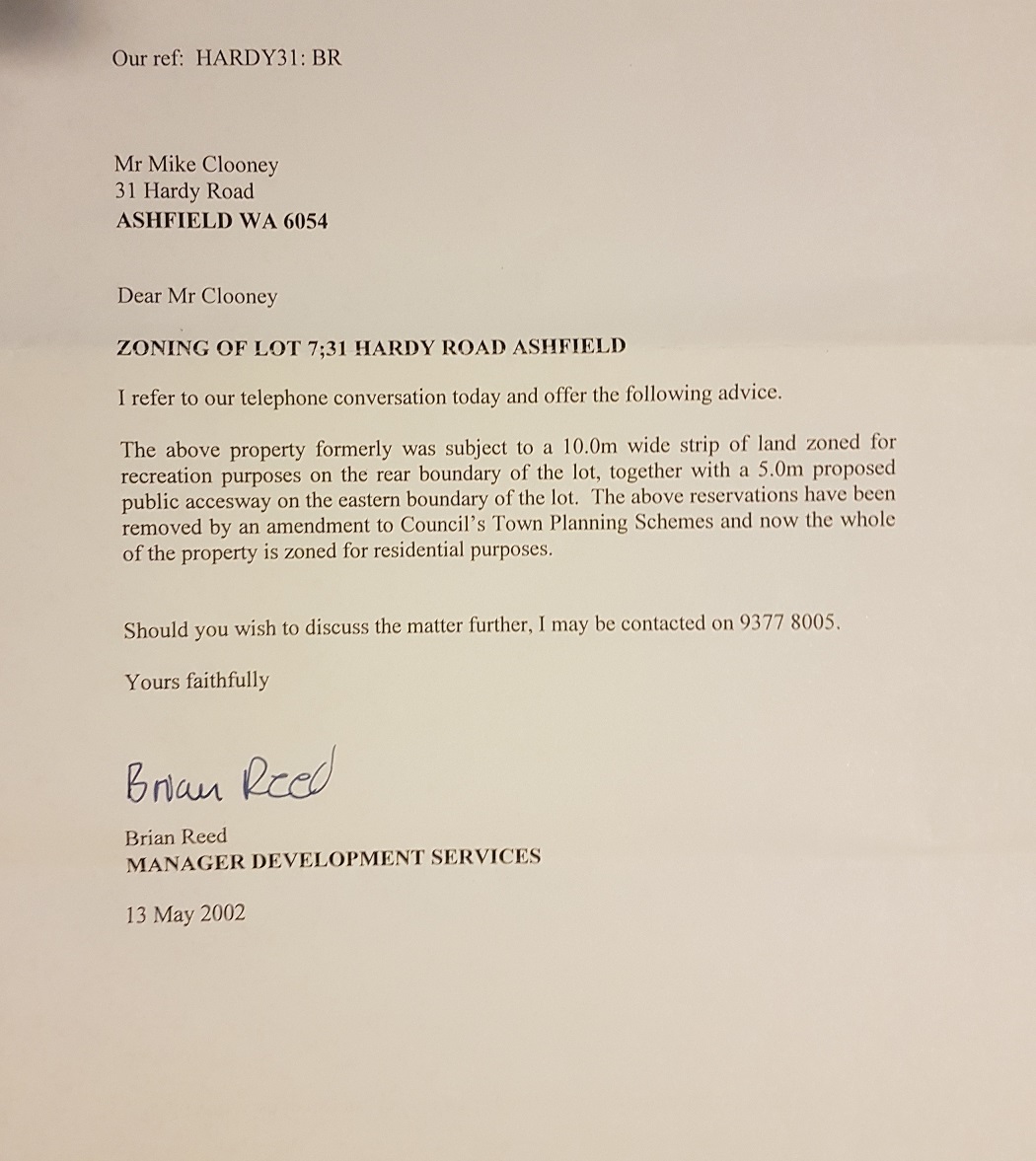 Also find out what they intend to do with the vacant land to the rear....and if they want to erect some monstrosity, just frighten them away with global warming or some 'greeny' suchlike implication, and get a written statement, that no such project will go ahead.....thats what i had to do 
To attend a council meeting, you have to be personaly invited, to state your case
PERSONAL INVITATION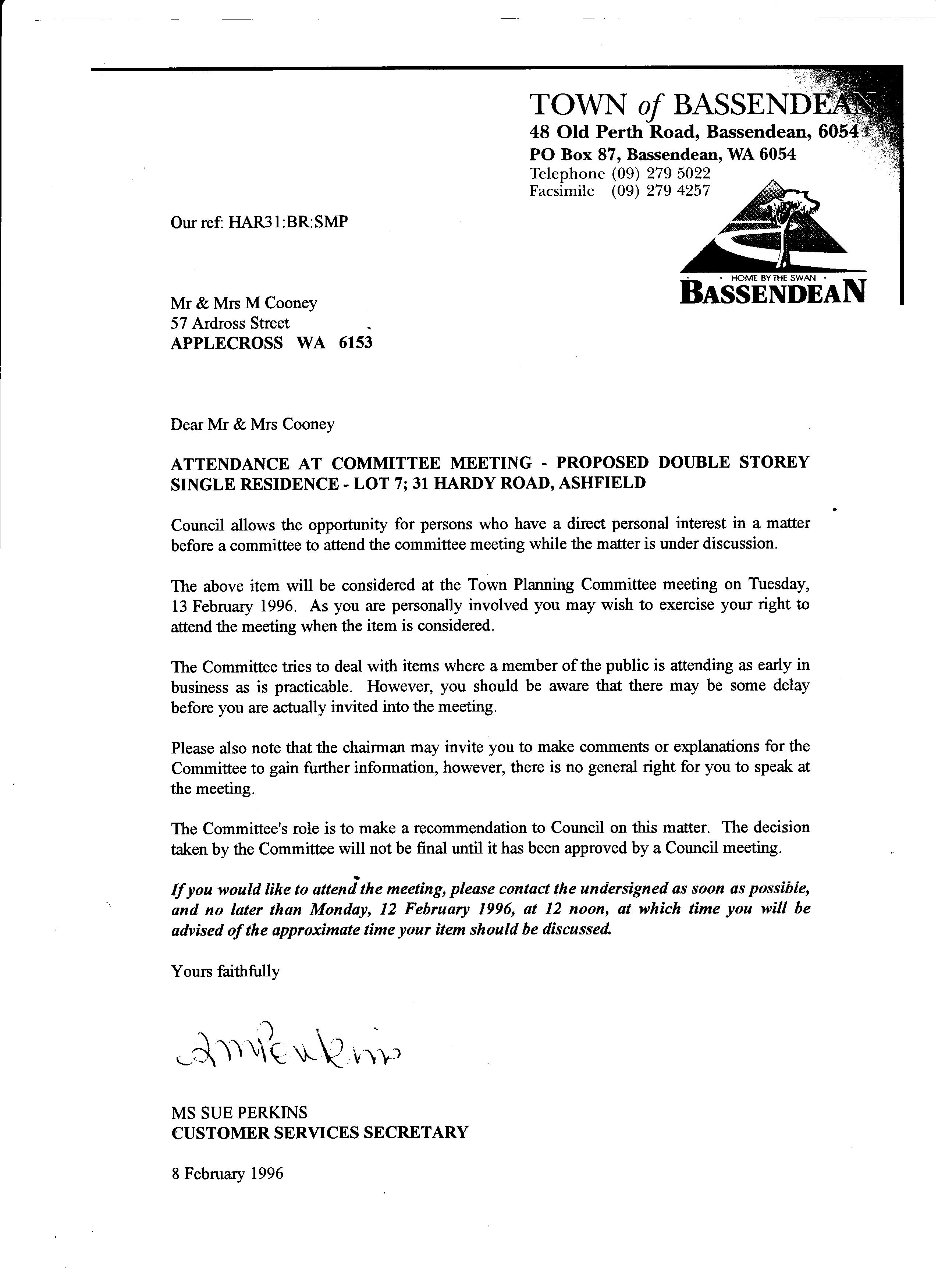 APPROVAL
It took several meetings to eliminate obstacles, but, if you find a counciler that shows more persuation than others, butter them up, and they will become your advocate. I have found councillers to be more than reasonable, but there can be one stubborn one
And so they ended up approving the proposed development....but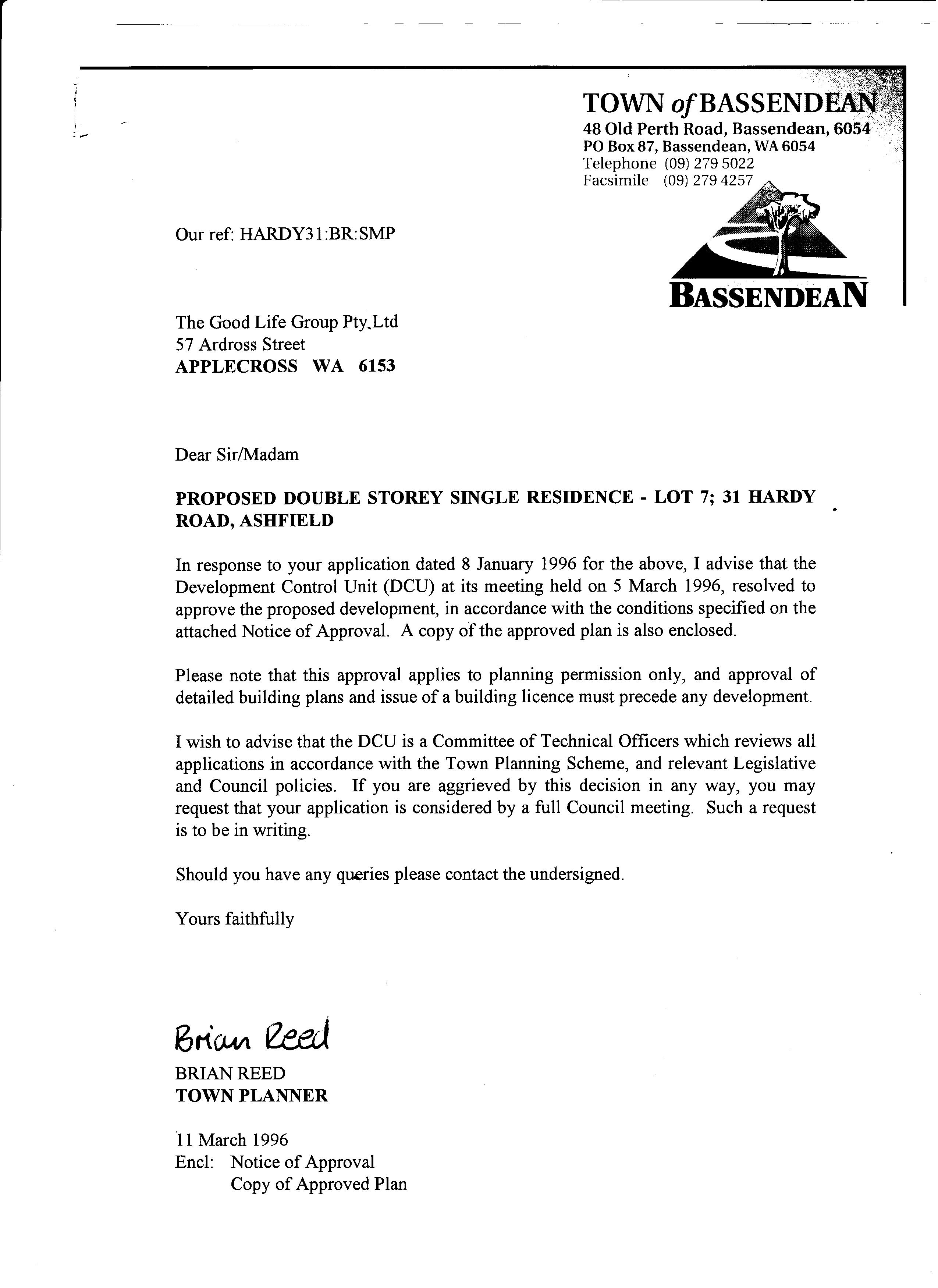 ......But now the proposed building plans and all other involvements needed to be approved ( like surveying for instance )
SURVEYING (prior to building)
Often you will find when the property is surveyed, that the neighbours fence has encroached by a small margine on to your property....or vica-verca
Explain the slight discrepancy to your neighbour and get a written agreement of the encroachment.....you dont want any difficulties with your neighbours later, should they decide to sell
You will often find (as we did with our place )....the fences were slightly off course by a foot or so...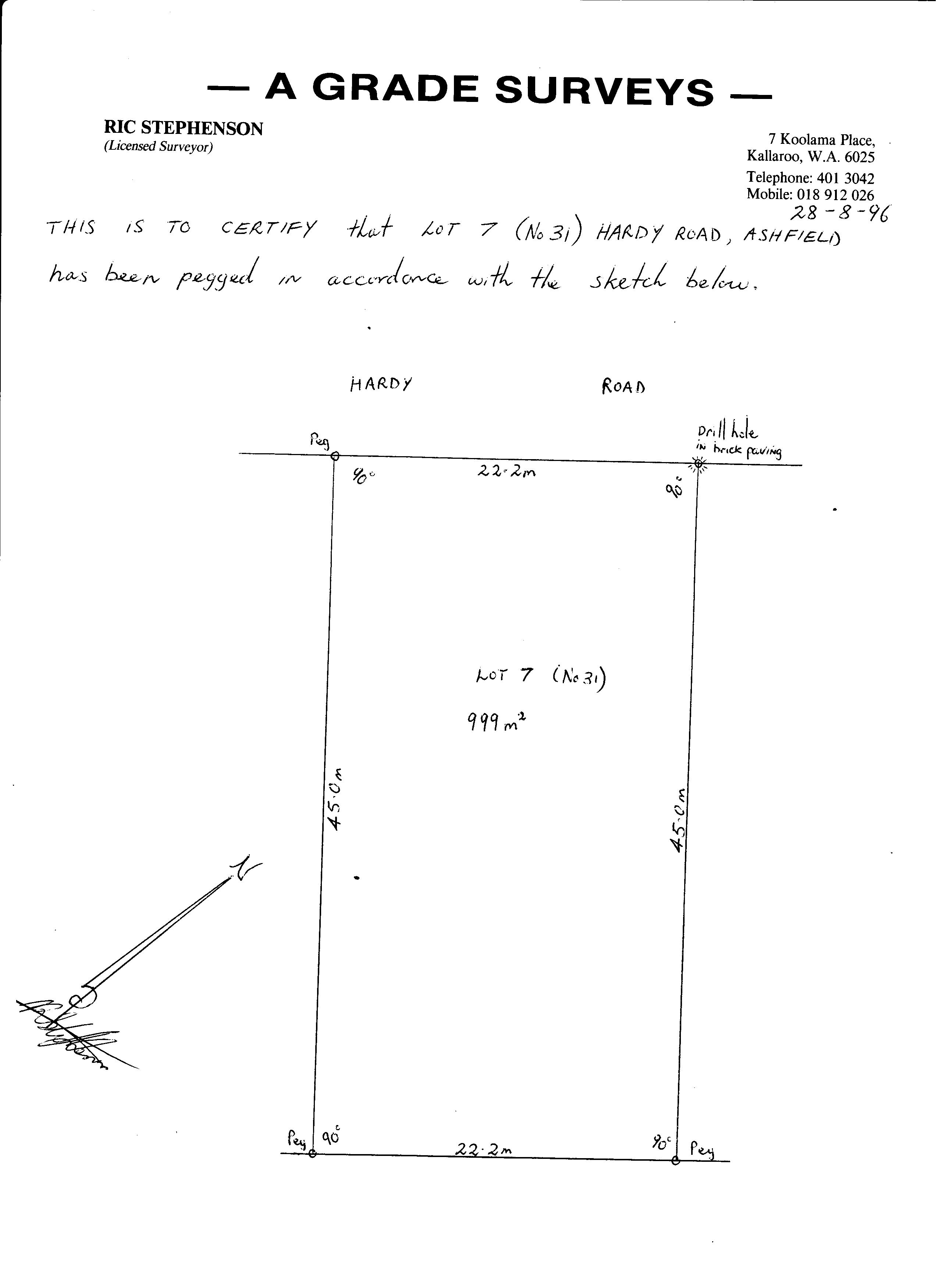 They will probably require this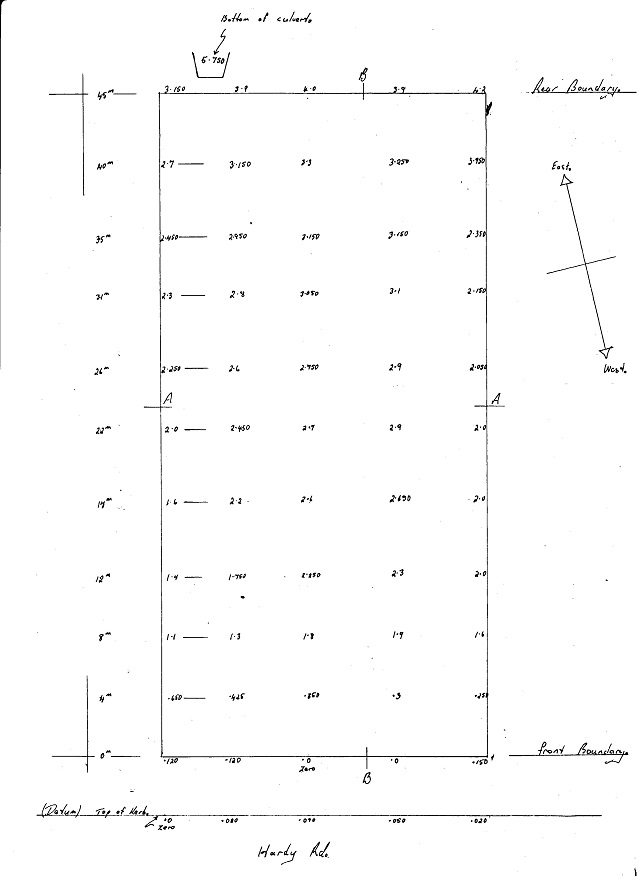 Gradiant East/west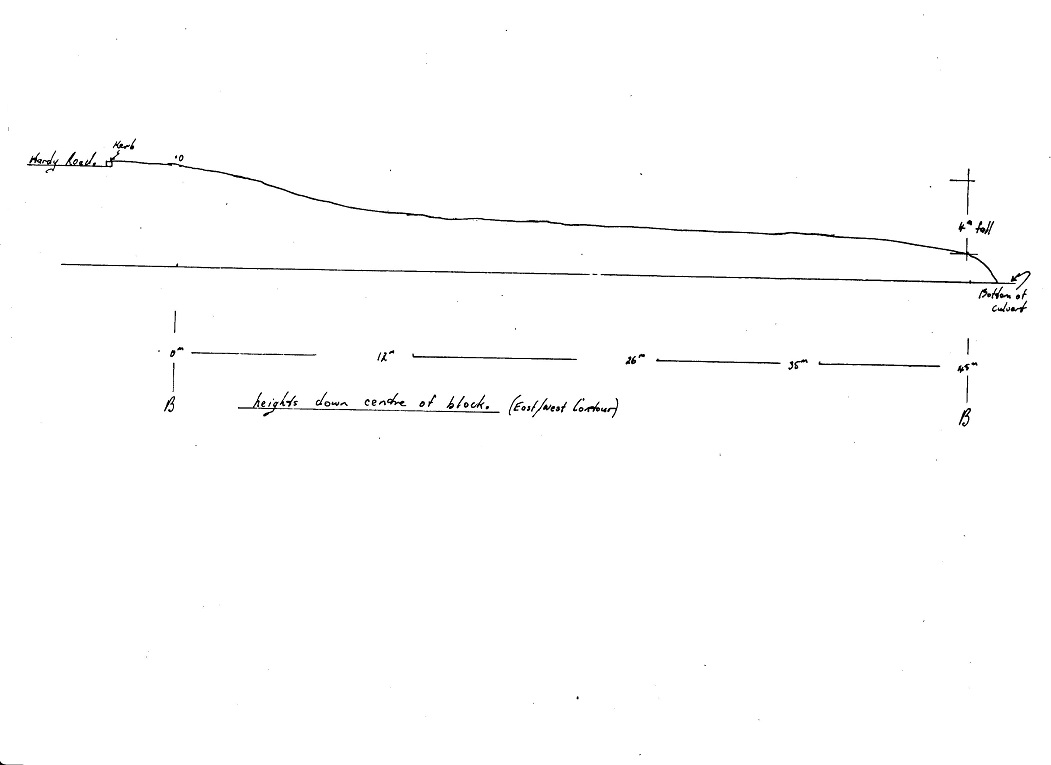 Gradiant North/south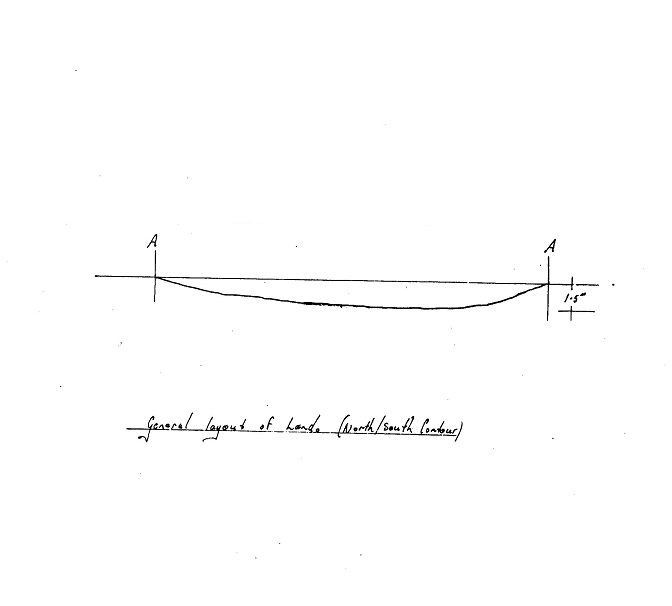 Gradiant (types of gradiants that you see drawn here, might seem, beyond your ability to draw ...but just remember....i drew all these drawings ,simply copying some professional drawings that i saw...its easy..... just copy them and put your own figures on the drawing....its easy...)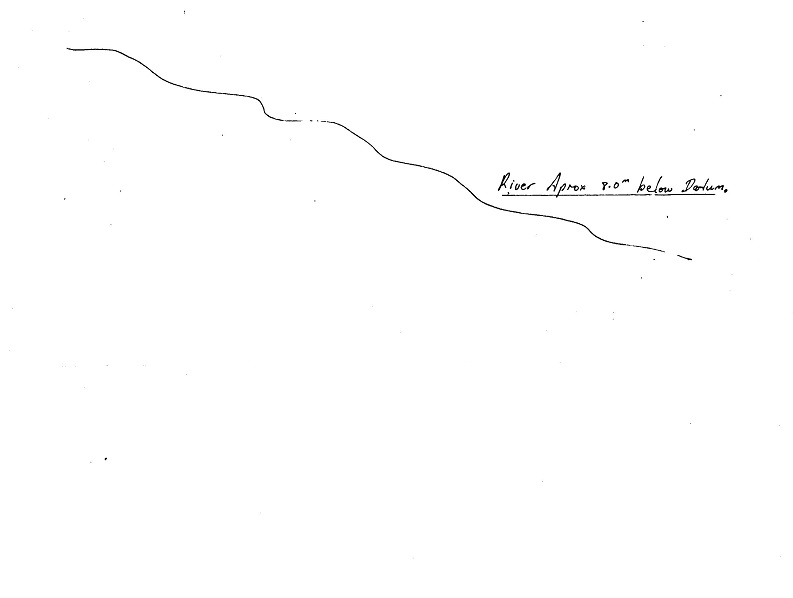 POSITIONING THE HOUSE ON THE PROPERTY
So now you have to get the positioning of your house approved (ie.some houses are not allowed any closer to the boundary than 2m)
I presented our proposal (which was knocked back ) and repositioned it, to satisfy the regulations, and then gained approval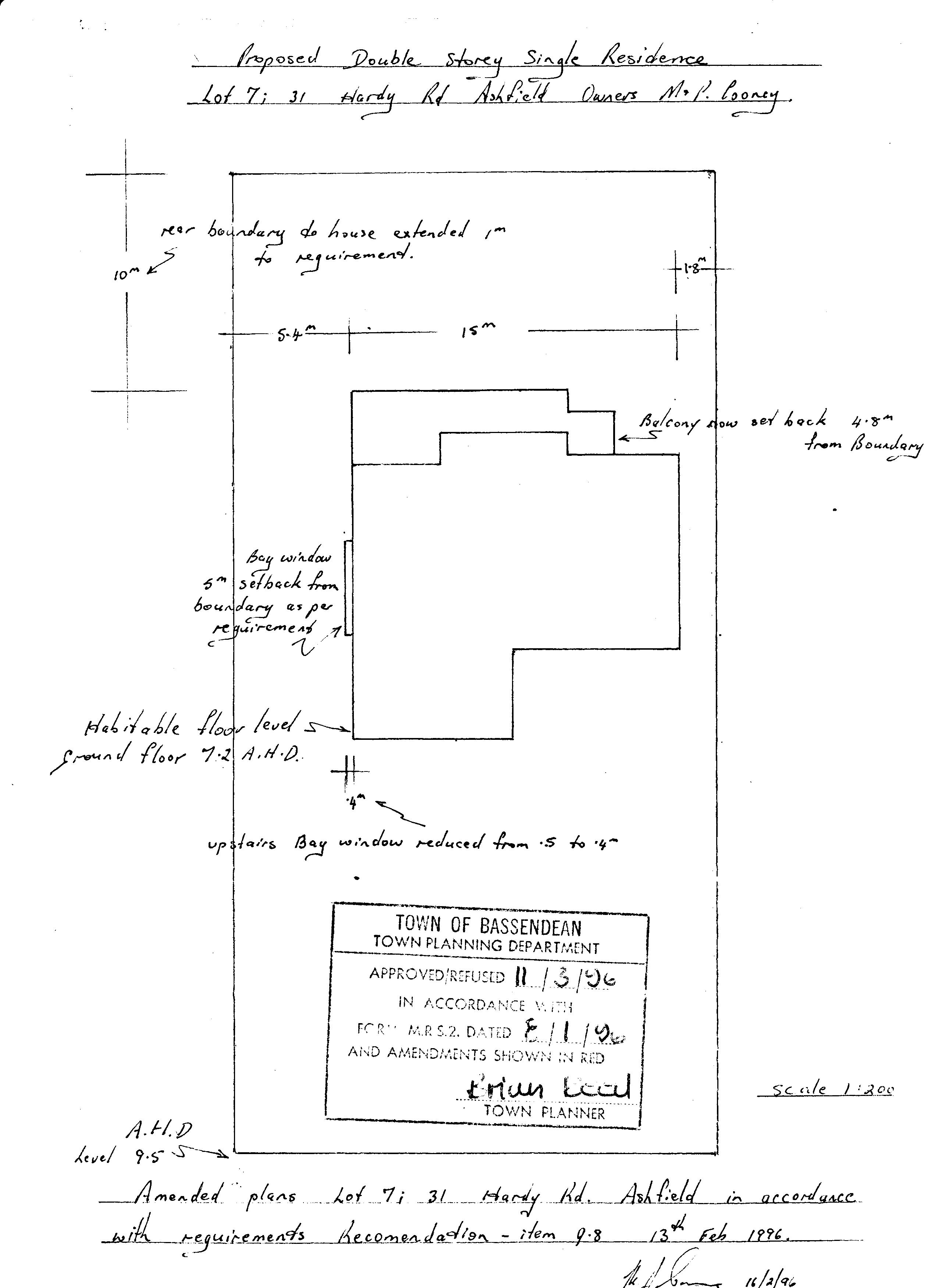 I also presented them with landscaping proposal.....it pays to go the extra mile, and be really nice to your councilors (get them on your side)....believe me
"yes sir, no sir" really works......
SUGGESTED LANDSCAPING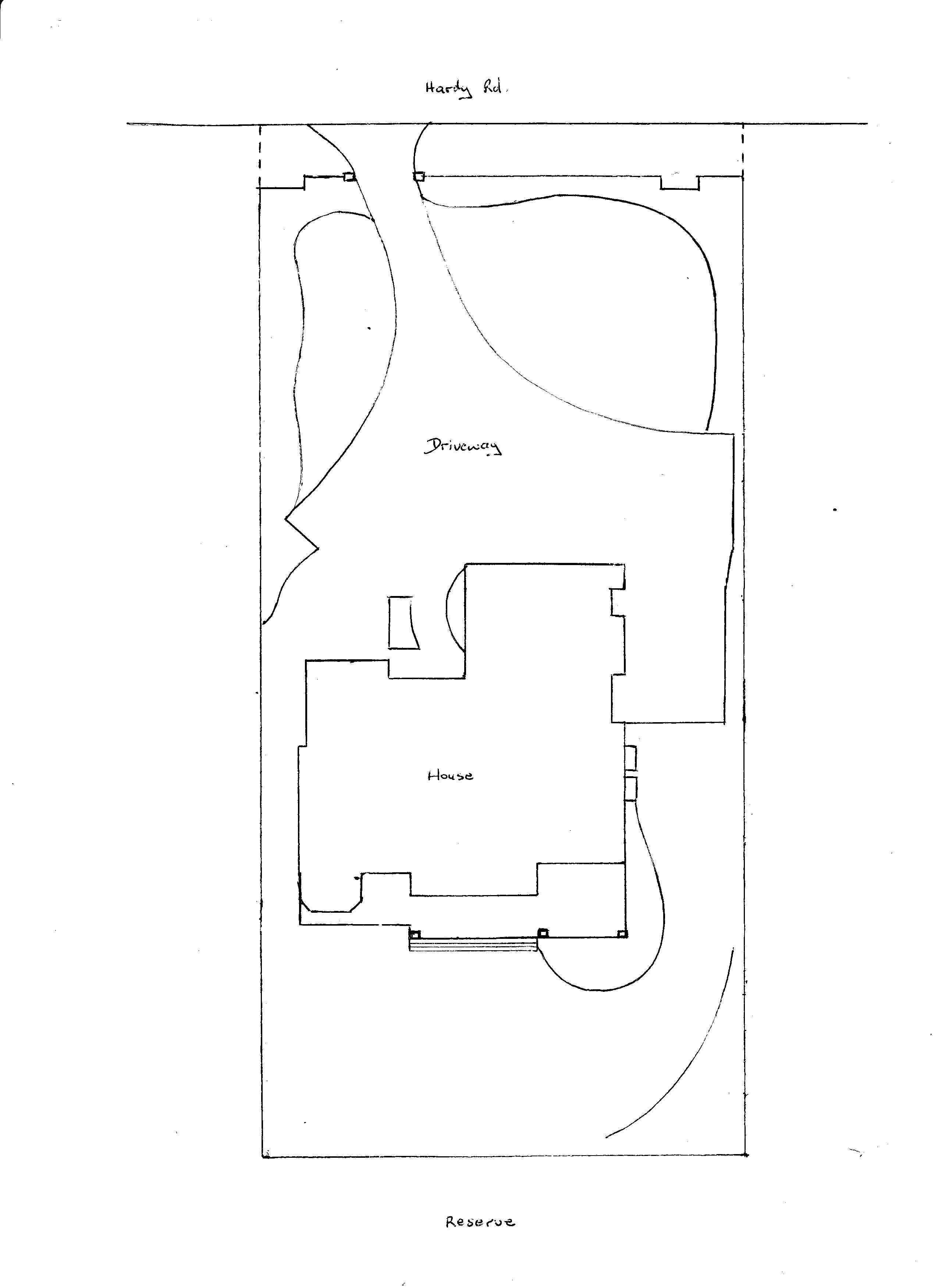 COMPLYING COMPLETED LANDSCAPING PLANS (changed considerably as we neared the end)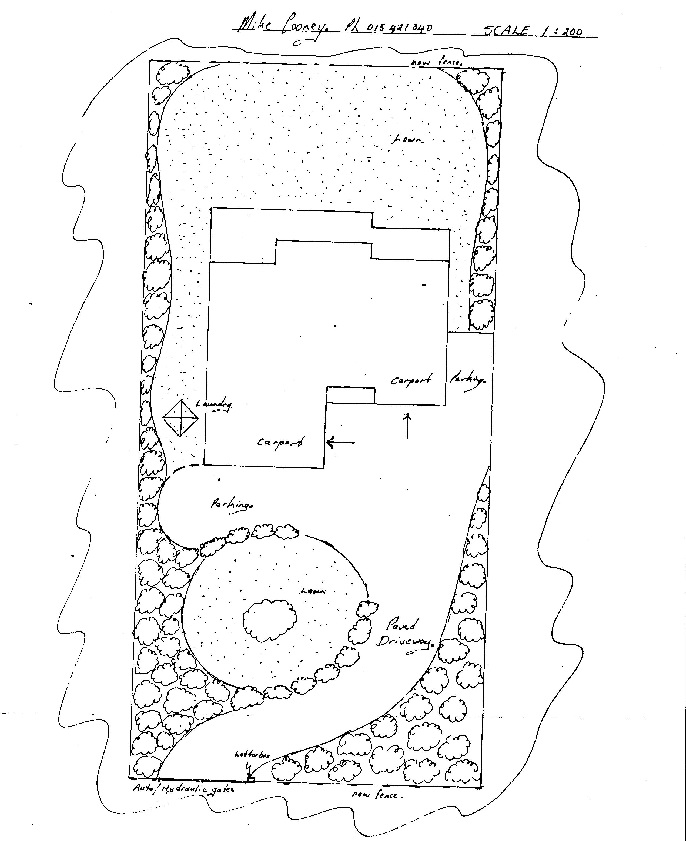 BUILDING PLANS OF THE PROJECT
When you initially approach the council, you will also be required (in writing) to explain, and to also present the plans of the building you wish to build.
I might just add here that when i presented my written explanation of the project,..... i had started a Company ( Pty. Ltd. ....at minimal cost...basicaly just for the name) and put it on my letterhead, to look as professional as possible. This helped me immensely, as the councillors were uncertain how to approach me, thinking that i was very professional in my presentation, and gave me due courtesy....
and which i might add,...... was all very legitmate, since yes,.... i had been involved in the building industry to some degree over the years, and also never declared myself to be a registered builder, and was expecting, in the future, to be doing some extensions and property improvements, even if i was required to use more professional registered people than myself.......i have a good (unregistered builder) friend who has a very successful building business, but has never picked up a hammer in his life....he merely uses other registered people when he needs to.......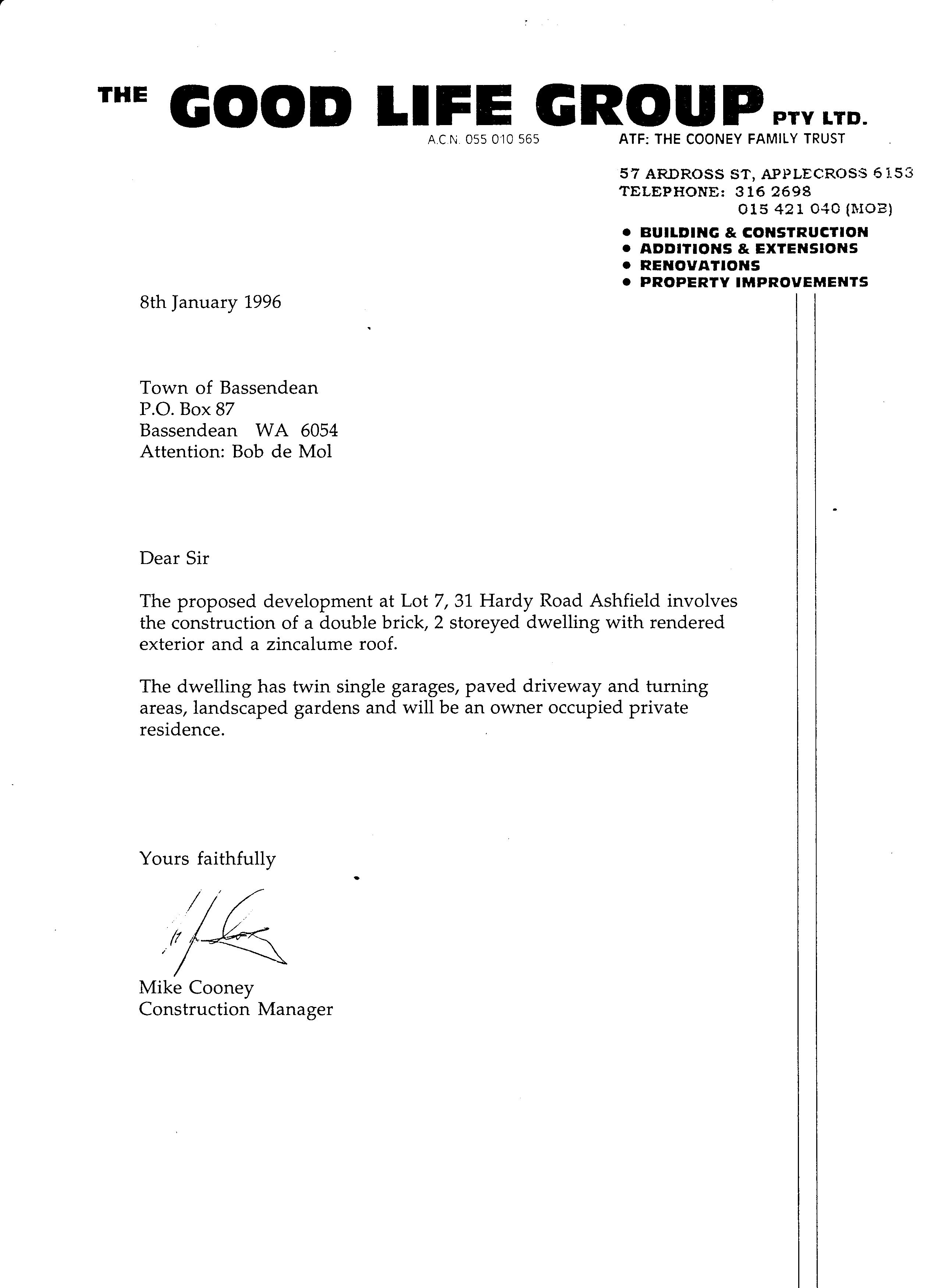 COSTS
When you present your plans, a rough estimate ( broken down of materials used and labour used ) will be required..... also (remember this was 26 yrs ago but if you triple it, you should come close ).......your saleable price on completion should easily triple again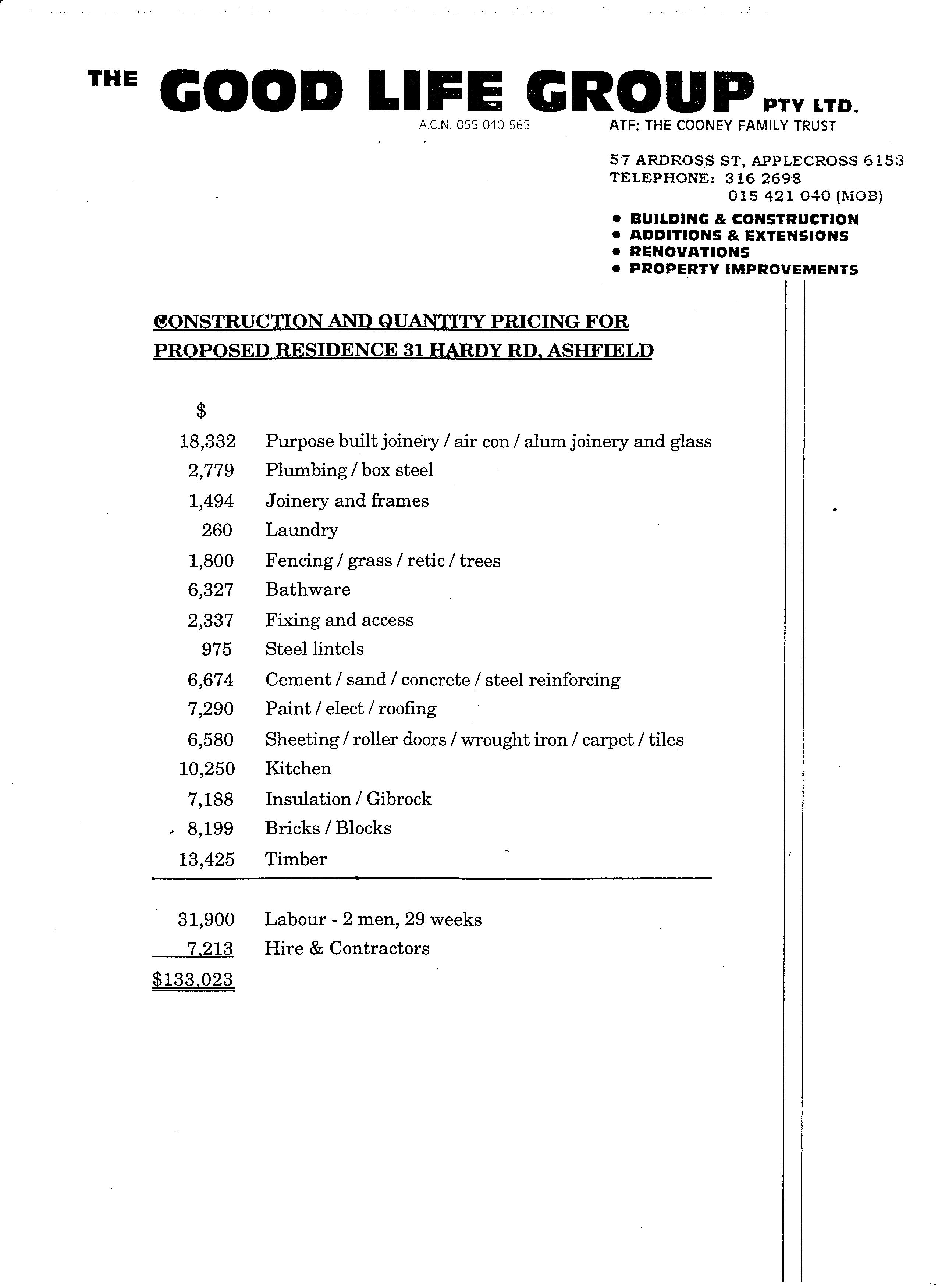 WHO'S GOING TO BUILD IT
The Council will also require a written agreement ( by him, on his letterhead) of whom the builder will be, including the proposed material and labour cost ......this was obviousy for some sort of stamp duty (which will obviously be different, at different places throughout the world ), and stating that it will be supervised until completion by the below mentioned builder
The builder ( he was retired.......find someone like that who still has his builders licence, but retired).....their not hard to find.....just put an add in the paper, or some digital means of advertising 
Believe me...they love to get involved......the job will not be a rush.....but leisurly pace and financialy rewarding for them. Just offer them a nice little bit of pocket money regularly, and a lump sum at the end......eventually he only popped around every 3 monrths for 30mins to check up, and seeing that we were doing everything right ........1 man and his labourer do not do a substantial amount of work in 3 months i assure you (compared to a regular building site), and, you have the bonus of fixing any mistakes yourself quite comfortably, should you have made any..... 
He got $150 for 30mins work, (1996 remember) and $1,000 at the end of the job.....he was very happy with that, and very pleased to be involved in such an awesome project.....
probably triple that for todays economy....
the council will require those $ figures ( see below )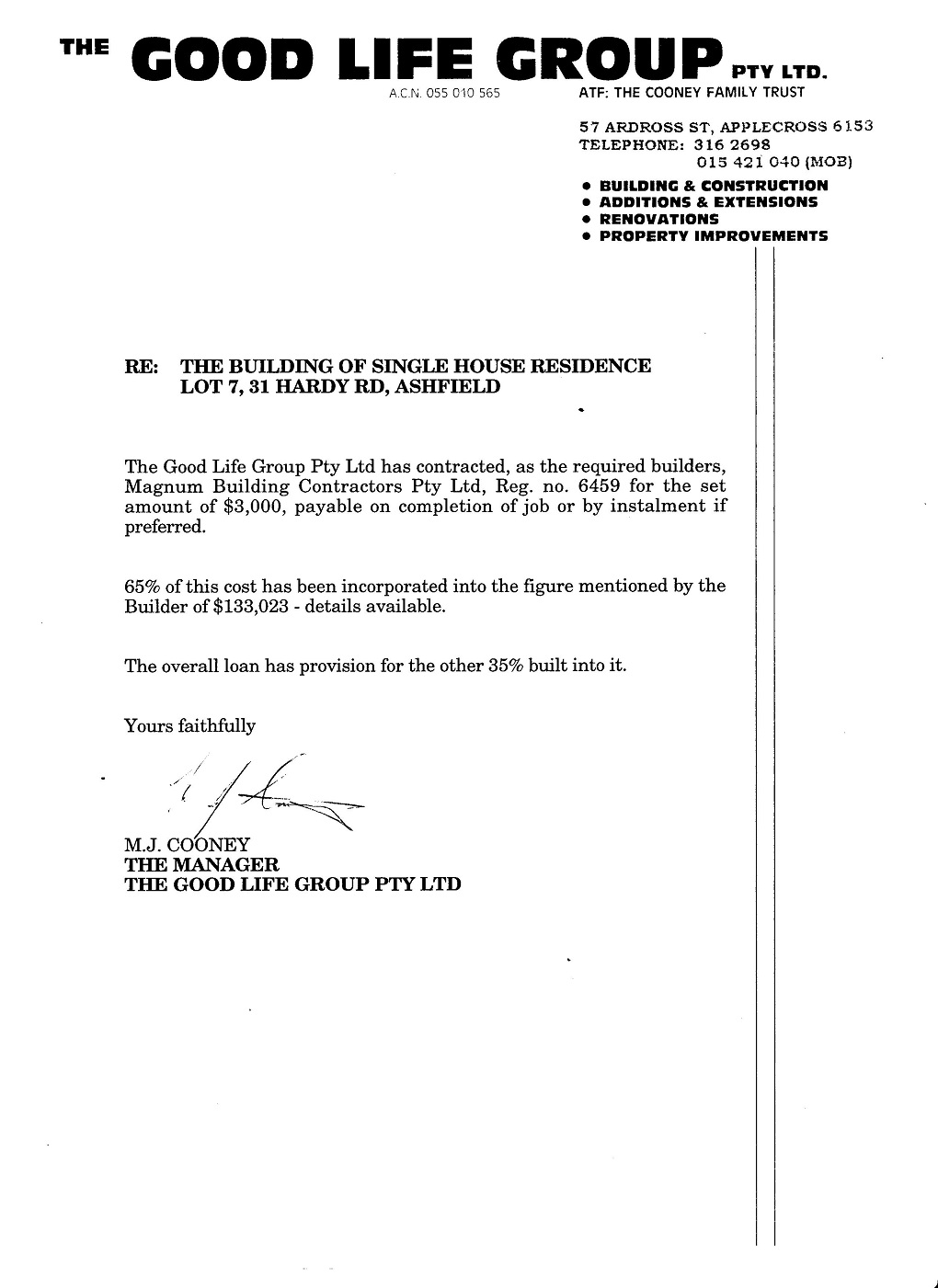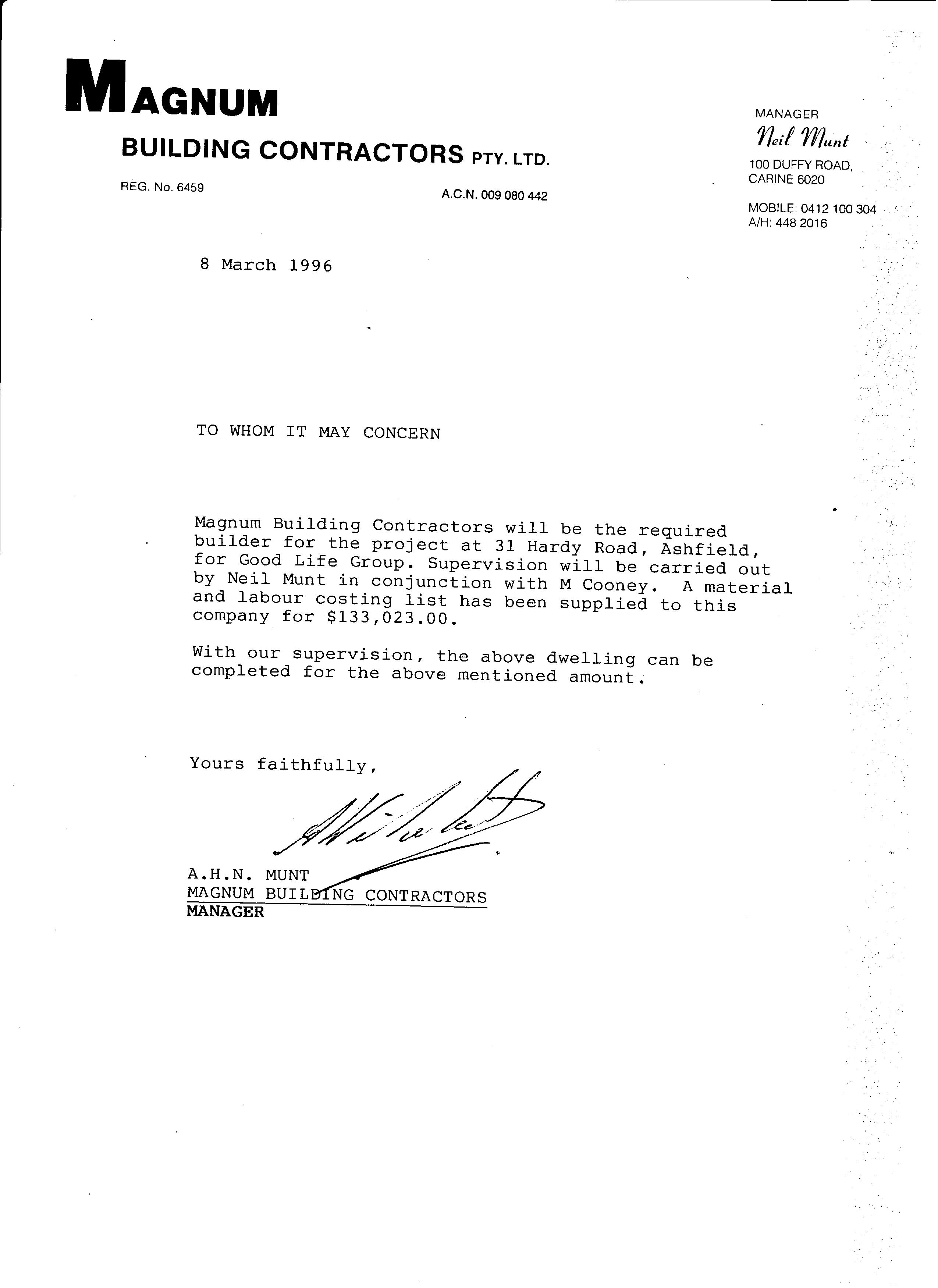 PRELIMINARIES
Before commencing work, a few preliminary things have to be done.....
You need to arrange insurance....
I arranged $1,000,000 public liability insurance ( third party property and damage )....you may need more 
Personal accident ......
personal disability....
and accidental death......just in case you are unable to finish the project....you can pay some other tradesmen to finish it
Tools and materials insurance cover.....should anything be stolen off the site (bearing in mind, that most tools and small materials will be locked away)
You should determine your own cover in regard to your circumstances ......and try and pay at least 3 yrs payments at the start...you dont want to have to try and find the money in 12mths time for a payment, when suddenly your are trying to be so budget conscious, and an unexpected bill arrives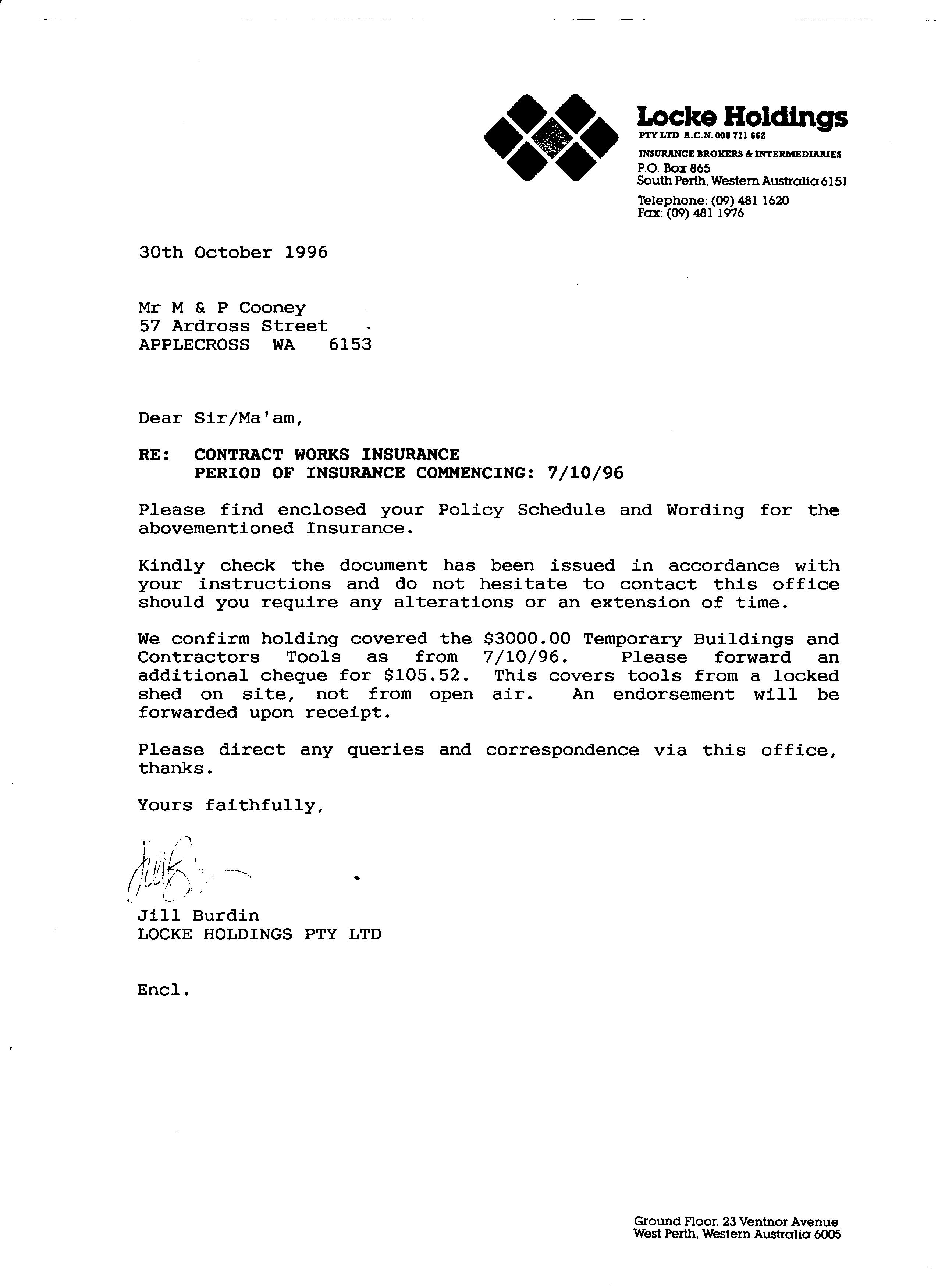 5 IN 1 UTILITIES
....contact 'Dial before you dig' or 'All in 1' utilities before you start
TELSTRA
Information on telephone and telecommunication cable and conduits are supplied separately by Testra
Telsta will contact you 2 days prior to your commencement date, if an onsite phone location has been requested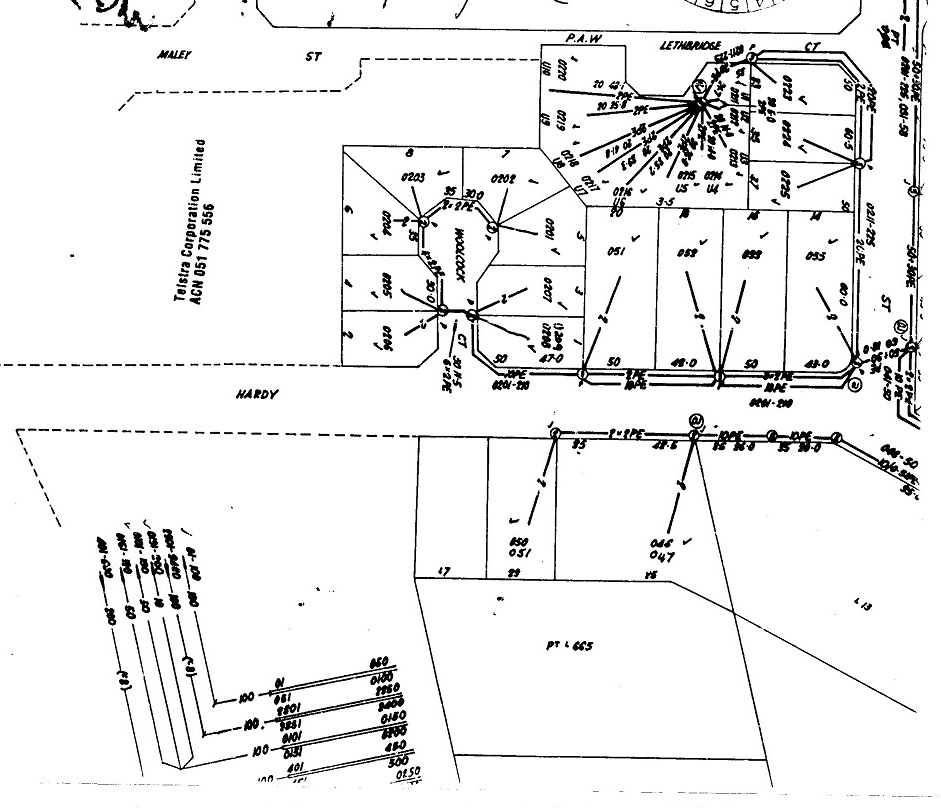 WATER
As you can see ....information regarding any building restrictions must be obtained from the water authority... 'Our approval ensures your work won't damage or limit access to our assets' (waterboard)........
our building had no such restrictions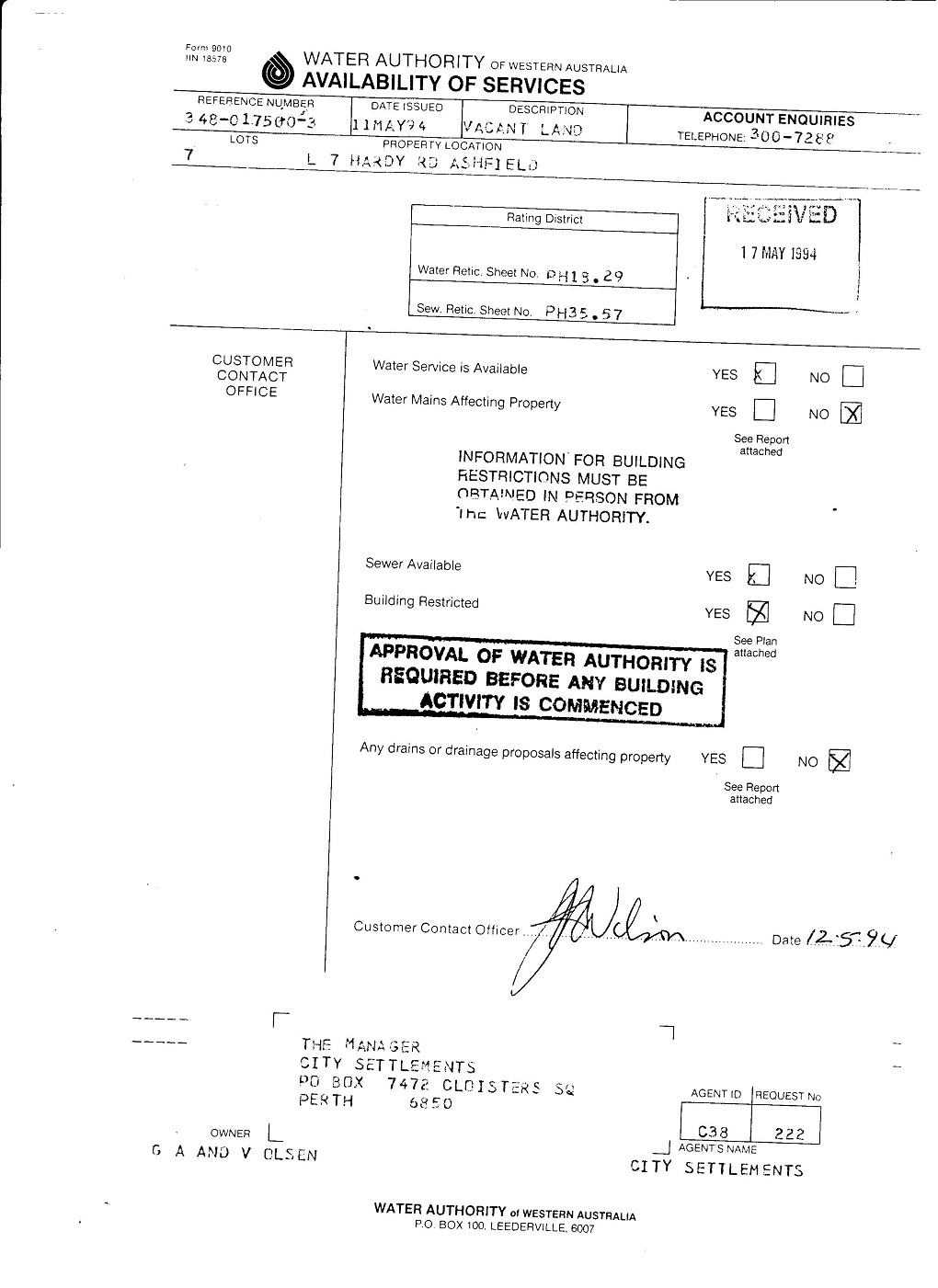 WATER ACCESSIBILITY PLANS
Provided by 'dial before you dig'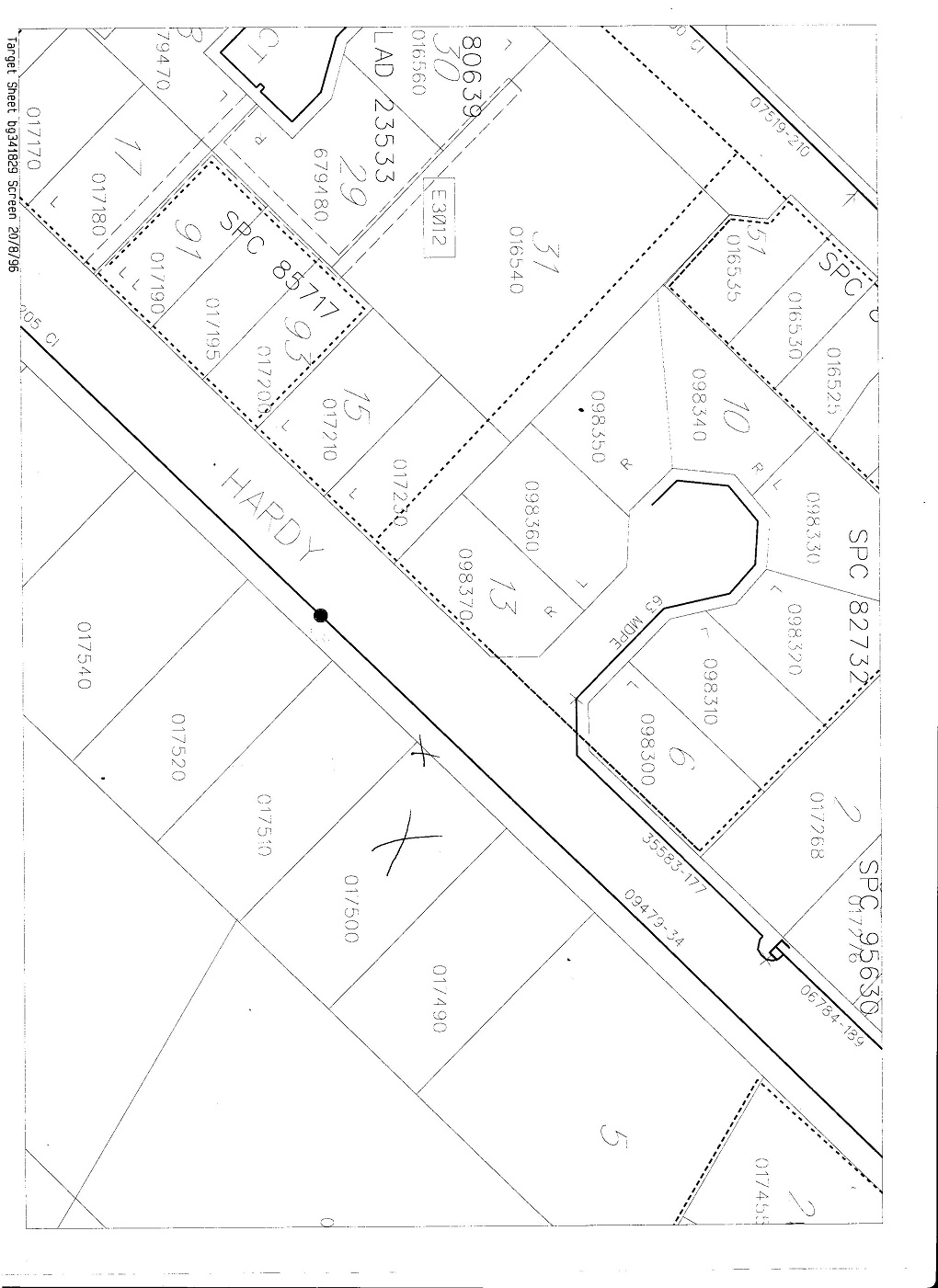 SEWERAGE
Provided by 'dial before you dig'
Find out the depth of your sewerage connection...The point of connection from the boundary ( distance )....the point of connection from the rear boundary ( distance )...so you can find it later, to hook up.. (ours was 3m deep,...1m from the side boundary,....and 10m from the end boundary)
Nearly all connections are close to the boundary.....for obvious reasons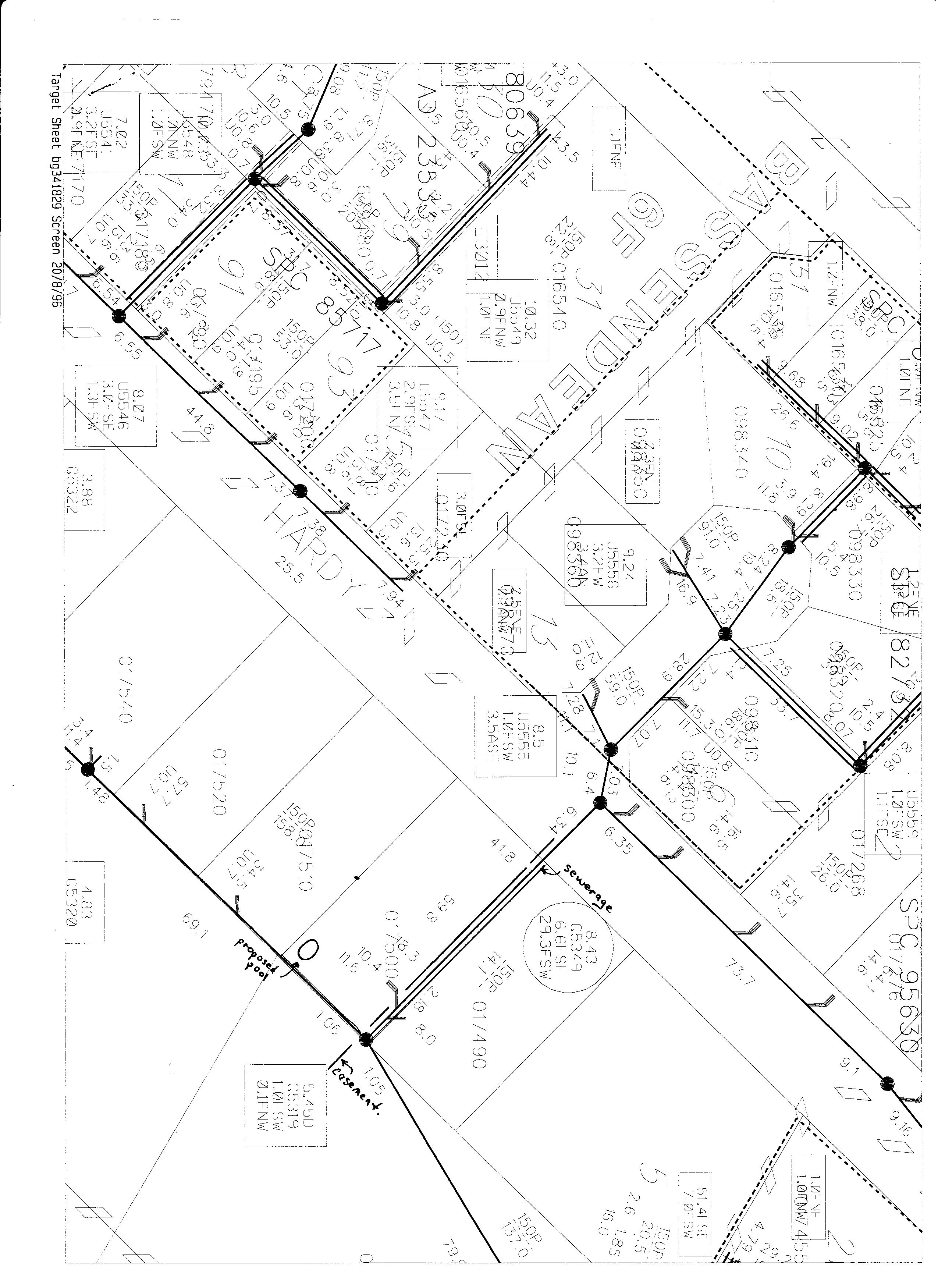 ELECTRICITY
This is where your permanent high voltage connection final pole will appear....at the completion of the project....( yellow cross )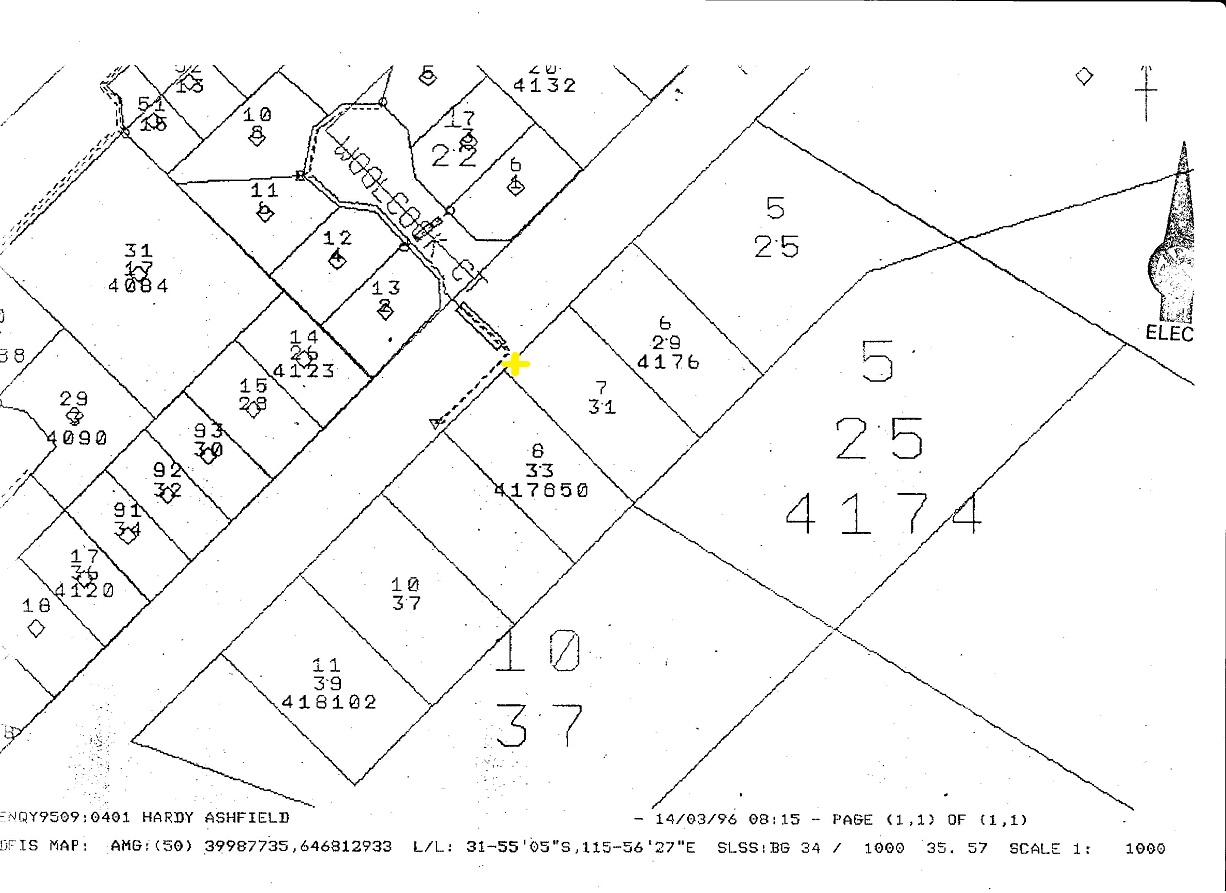 ALINTA GAS
Provided by 'dial before you dig'
A gas meter may have to be installed.....if you want gas..i highly recommend it
The service is usually installed at a depth of 350mm below the original ground level, and most are constructed from pvc which is yellow in colour (you might strike this as you prepare your front fence footings)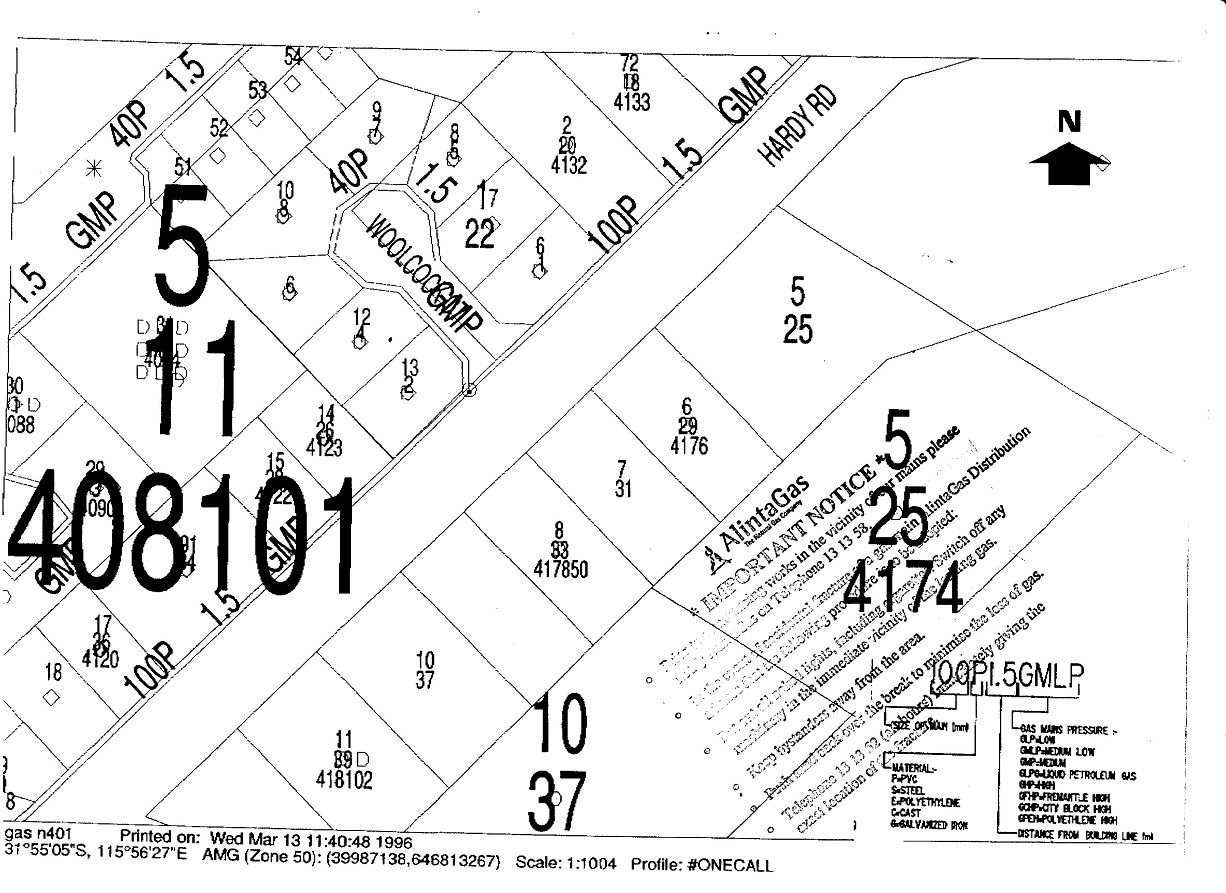 RETAINING WALLS, SWIMMING POOLS
Keep in mind.....Building approval from the Water Corporation is required before building fences, retaining walls or swimming pools
Also.....The Council may require.....something like a..... $500 'Building and Construction Training Fund' levy, so pay it...and be nice! 
They will also want a security deposit of around $500, ( refundable ).....should they need to repair any street frontage damaged by large trucks
Generally.......no burning on site....moisten property for dust control occasionaly and minimise noise and litter
The installation of the road frontage crossover by the council, is usually payable in advance...but in my case it became refundable because i laid the crossover myself ( in curved brick paving....as i mentioned before ) 
RESORT LIVING AT ITS BEST
You realise that you have an advantage over me..........i could only imagine the end product.........you can see it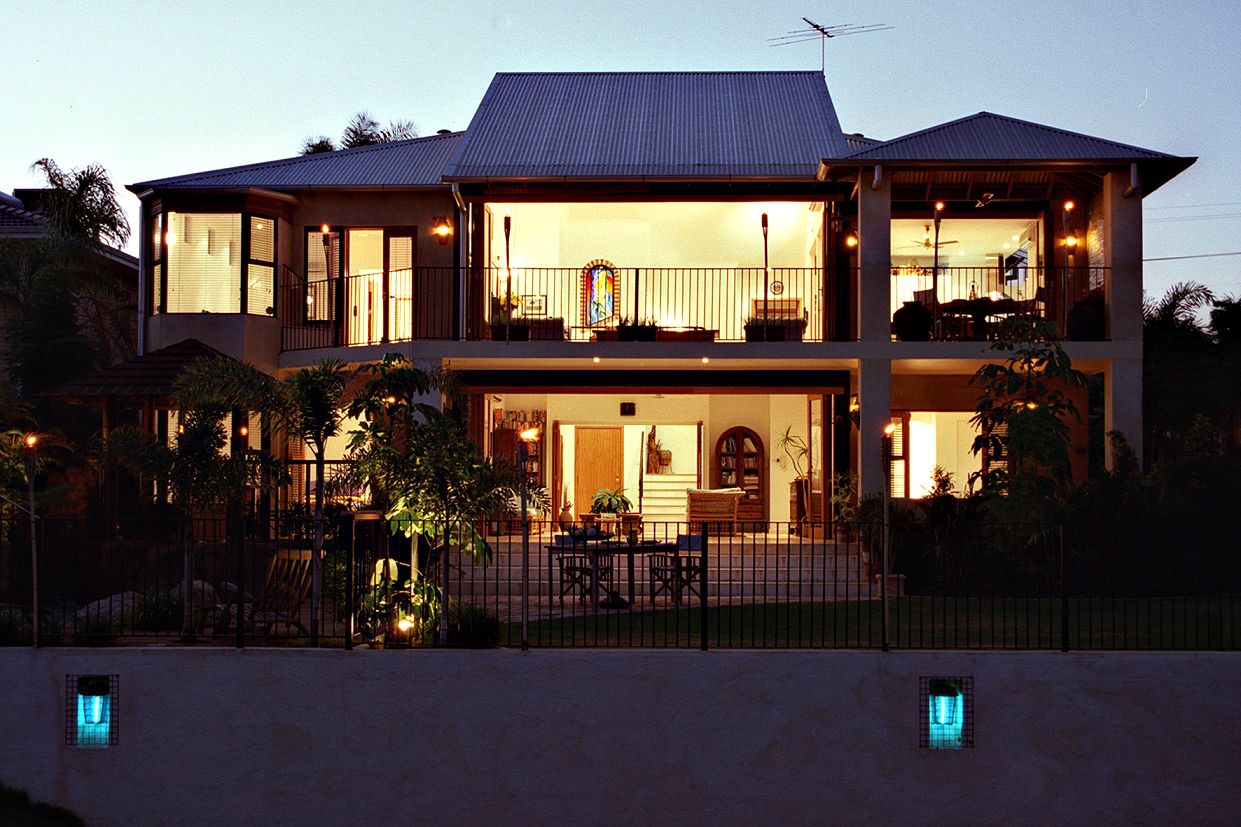 BENEFITES OF THE RIGHT PROPERTY
You can turn the stereo up....glass of wine..in the outdoor spa....and watch the fox family playing together on the wetlands in the evenings... and the birds (like we did)...and not disturb anyone...very cool!!! 
Or watch a beautiful moon rising up over the wetlands......lovely meal on the balcony...glass o wine....privacy....so cool!!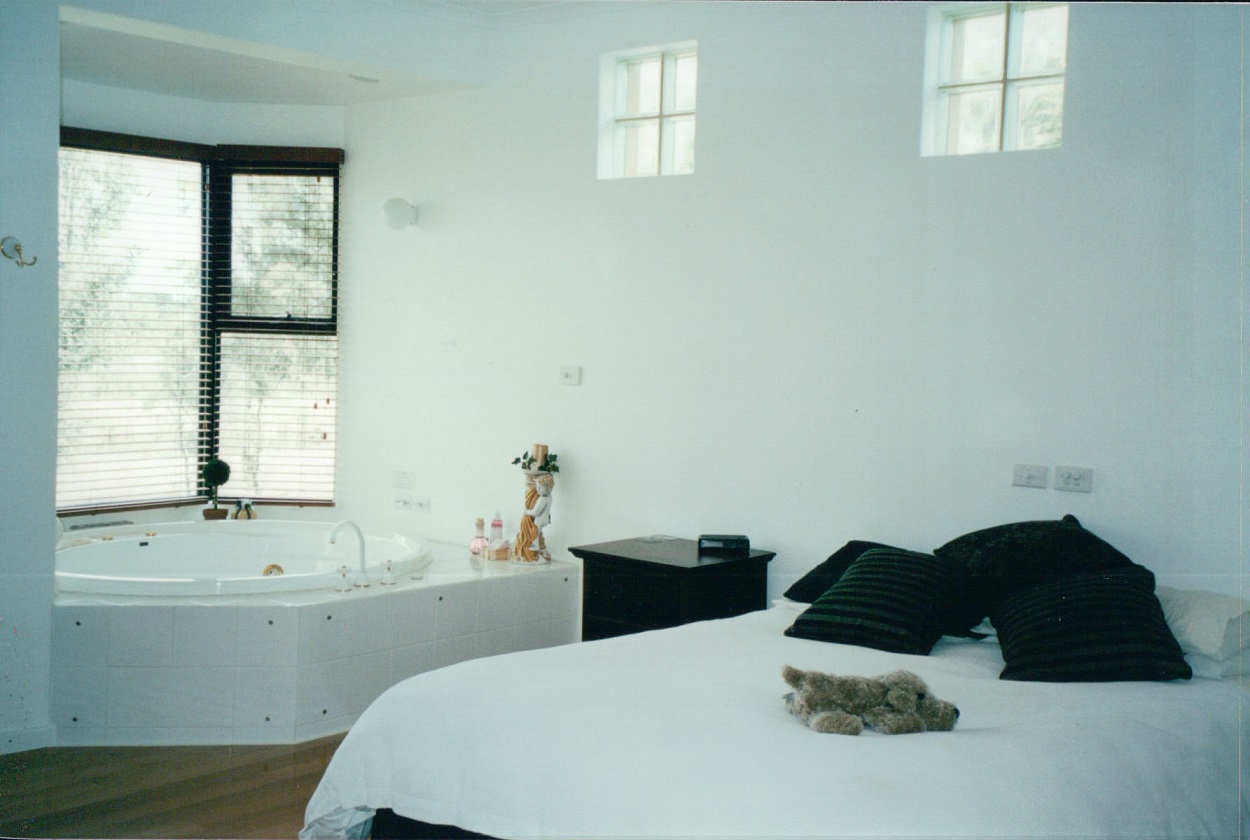 Sit in the main bedroom spa with a glass of red again, and watch the light show as a thunder storm hits (like we often did)..........or enjoy a Lovely meal on the upstairs heated balcony