STAGE 1
Scroll to the bottom of page first, and let the page load, (takes 4 or 5 seconds) then come to the top again
You are gearing up to build now, but some homework has to be done first...
( obviously, ...the Building Licence has been issued from the council....prior to starting ) and of course, things may be considerably different in todays world, (than it was 25yrs ago) concerning legal requirements, so i may have missed something  
but,..... we will still need............
Water
Obviously, one of the first things you will want, is a temporary water supply until the completion of the project, .....and even though you have been given approval by the water corporation, ....you now need to ask them to create a temporary supply......
In other words you need a tap positioned at the front boundary that you can hook a hose into....you must submit an application and await approval. Then they will install it. It may take a few days......but you will have plenty to do, believe me!
aprox $500
Electricity
 You will also need a temporary power supply for the duration of the project, preferably at a central point of your front boundary
Once again, you have to submit an application to the Electricity Dept....wait til its approved....and then installed....this may cost up to $1200 locally.....remember to inform them that you intend using a welder 
I might mention now also, that all this application business, is just part of life, and i found it to be a great experience to labour through all these things.........and keep in mind that you have embarked on a loooooooong term commitment,... and so,.....just  enjoy the journey, .....knowing that at the other end is incredible exhileration . 
but dont be in a hurry to get there, just enjoy the creative journey. 
Co-operating with people, and organizations, is all a part of life.........make it fun! 
SECURITY
The next thing is to erect a security fence, (front and back)....preferably with barbed wire threaded through it .....with a collapsible portion (as a gate), to alllow trucks to enter...........( as below )
,You will also notice some signs, on or near the front fence.....
You are required to display the name of the registered builder, and to erect a 'No Trespassing' sign in order to satisy the Insurance companies or company, and also the street number must be prominently displayed..........check your local authorities, they may require more
SHED
Then you will want to purchase or build a small lockable shed ......aprox 3m x4m, with a shelf in it, to read and store your plans....
It will need to be really secure ( once again ) to satisfy the insurance companies..... and, you will store all your tools in here...make sure the shed is securely fastened to the ground.....on the inside!!
Put a long drop loo in it as well ( see below), and with a peice of clear plastic on the roof to let in the light...( my son in law became my labourer for a considerable period, and the thing to do (both from him and myself ) ....was throw a brick at the tin shed when one of us was on the loo, (scares  the #*+ out of you......literally...ha! )
People may suggest hiring a portaloo, but that is simply out of the question (cost way to much, although you may be able to purchase one)......in fact it may well be a requirement these days....who knows !!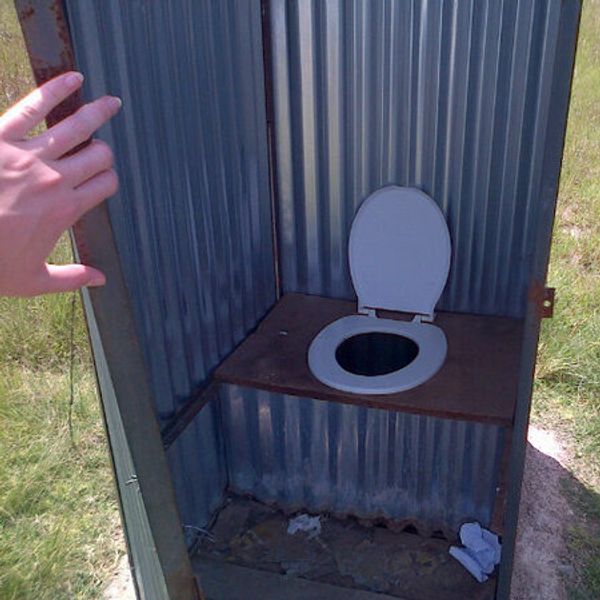 Long drop loo inside a shed .....dig the hole up to 6 foot deep if you can.....you will be using it for 5 years, and every now and again...throw in a little dirt then some disinfectant on top of the dirt
Now,...... we are just about ready to start the building construction, but just one more thing...
Before the steelwork ( concrete footings ) in the trench commences, you will need to determine ( by an engineer ) what the composition, and density of the ground is, so as to determine the appropriate steel combination and concrete strength ( for the concrete footings that the house is built on)
As it was here ( at my house ) .....it was classed as a ....'Class M site' 
They reach this conclusion by doing, ....what they call,.... a borehole.....a rod is hammered into the soil, to a certain depth and depending on the difficulty, they can determine the footings required (just look on google for a structural engineer near you....and their method)
  
As such, it was recommended to use the attached footing detail E3 ( below )........you will find from your own engineer, the particular footing that is required for your property
Dont be intmidated by all that is happening here........it dosen't take long for you switch on to this wavelenght, and will find it will become realy easy and simple very quickly, until it becomes 2nd nature to you 
Don't worry....i'll try explain as much as i can to you....but if you are uncertain about some things....just ask your builder...he's there to help you !! ...get your builder on side and be generous to him .....shout him a xmas holiday....that sort of thing !!  Its definitely worth it im'e telling you
Penetrometer readings (house foundation requirements subject to readings) 
ground density ....and house profiles
...E3...engineers brickwork required